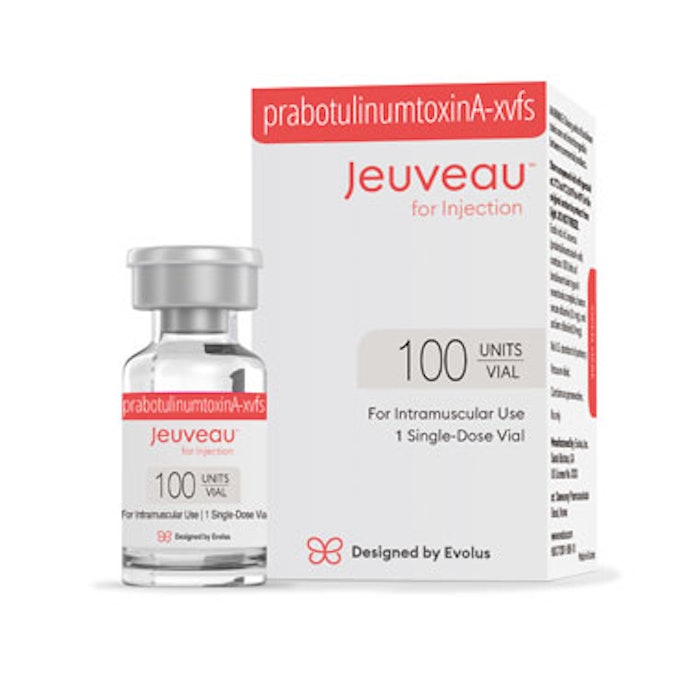 There is a new injectable neurotoxin coming to the aesthetics market. On February 1, the U.S. Food and Drug Administration approved Evolus' Jeuveau (prabotulinumtoxinA-xvfs) for temporary improvement in the appearance of moderate-to-severe glabellar lines associated with corrugator and/or procerus muscle activity in adults. Jeuveau is a proprietary 900 kDa purified botulinum toxin type A formulation.
The approval was based on clinical data from two U.S. Phase III randomized, multi-center, double-blind, placebo-controlled clinical trials. Jeuveau met the primary endpoint and demonstrated efficacy compared with placebo in the reduction of the severity of glabellar lines in each study. The primary endpoint was defined as a 2-point composite improvement agreed upon by physician and patient at Day 30. In the trials, 67.5 percent of subjects in study one (EV-001) and 70.4 percent of subjects in study two (EV-002) met the primary endpoint, compared to 1.2 percent and 1.3 percent of patients in each placebo arm respectively.
"The outcomes I've seen for my clinical trial patients firsthand, combined with the comprehensive clinical data set for Jeuveau provide a compelling new treatment option for physicians and their aesthetic patients," said Ava Shamban, MD, board certified dermatologist and clinical investigator. "The TRANSPARENCY program involved the study of more than 2,100 patients globally, including two U.S. pivotal Phase III trials and a European and Canadian Phase III head-to-head trial versus Botox, in which all the primary and secondary endpoints were met. Importantly, there were no serious drug related adverse events reported. I look forward to incorporating Jeuveau into my aesthetic product offerings."
The company expects that Jeuveau will be available throughout the United States at physician offices starting in Spring 2019.
"We are focusing our efforts on ensuring a successful launch of Jeuveau and have initiated the recruitment of a high-quality, specialized U.S. sales force," said David Moatazedi, president and CEO of Evolus. "The launch of Jeuveau will be powered by our technology platform designed to eliminate the friction points that exist for customers today. Prior to our U.S. launch, we expect publication of our U.S. Phase III results and to submit for publication our European and Canadian head-to-head Phase III study versus Botox. I would like to thank all the Evolus employees, clinical investigators, patients and our partner Daewoong for their diligent efforts in bringing a new option to the market."
Physicians can sign up for updates on product availability at www.evolus.com.