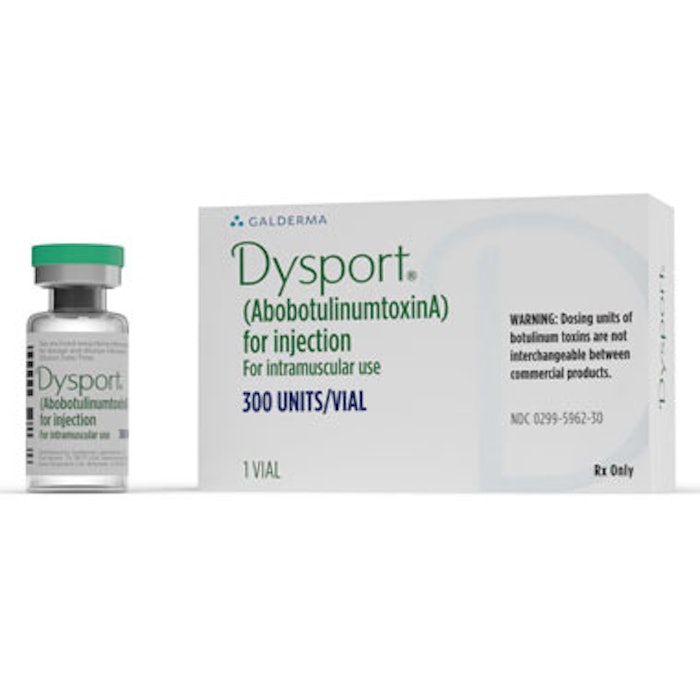 Galderma has announced results of DREAM (Dysport Real-world Evaluation and Measured satisfaction study), a clinical study of Dysport (abobotulinumtoxinA) for Injection that evaluated patient satisfaction and safety with a twice-yearly treatment schedule.
The open-label, multicenter, interventional Phase 4 study enrolled 120 patients ages 18 to 65 with moderate-to-severe glabellar lines at maximum frown. Of those, 90 percent were female and one-third (33 percent) were toxin-naïve. The primary objective of the study was patient satisfaction, which was assessed by directly questioning study participants and giving them the option of responding with "highly satisfied," "satisfied," "dissatisfied" or "highly dissatisfied." Secondary objectives included patient satisfaction as assessed by the 5-point Likert questionnaire and the FACE-Q scales measuring subject's psychological function and appraisal of lines between the eyebrows. Patients were followed for 13 months to evaluate safety.
After receiving Dysport injections at the start of the study and then six months later, patients were assessed six months after the last treatment (12 months after the study began). At 12 months, 95 percent of patients were satisfied (35 percent) or highly satisfied (60 percent) with the treatment, and 97 percent of patients agreed that the treatment result looked natural at 12 months.
Compared to baseline, 85 percent of patients were satisfied/very satisfied with their appearance at 12 months vs. 51 percent at baseline, with 99 percent of patients stating that they would like to receive the treatment again. Only one patient (0.8 percent) experienced a treatment-related adverse event (mild injection site bruising).
"As a physician in practice for nearly two decades, I have many long-standing patients who come in for retreatment with neuromodulators every three to four months. In the DREAM study, we were interested in evaluating patient satisfaction with a regimen in which Dysport was administered on a twice-yearly schedule," said Joel L. Cohen, MD, a board-certified and fellowship-trained dermatologist, director of AboutSkin Dermatology and DermSurgery in Colorado and an investigator for the DREAM study. "We were encouraged to find in this Phase 4 study that close to 100 percent of patients were satisfied or highly satisfied with the aesthetic results of treating the lines between their eyebrows every six months for a year with Dysport. These top-line results suggest that aesthetic specialists can feel confident administering injections that match patient goals of treatment efficacy from every three to four months to a twice-yearly schedule."