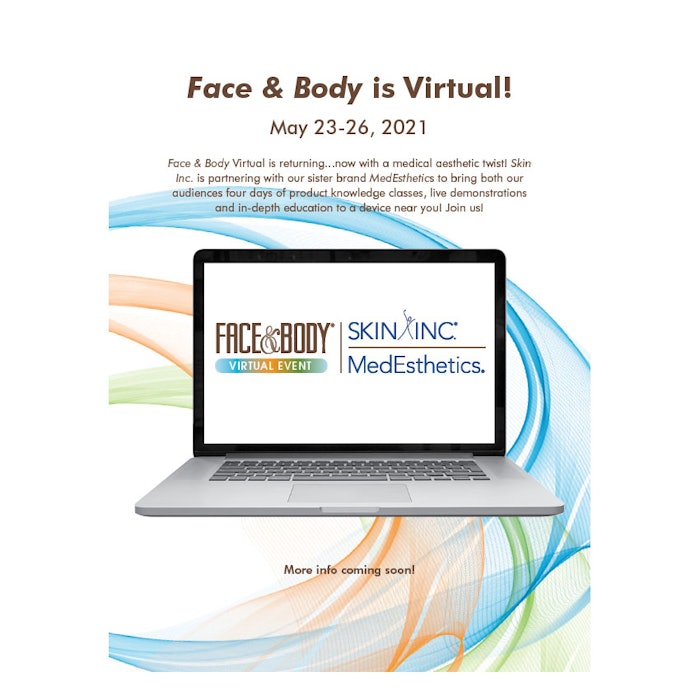 Face & Body is once again bringing its renowned education to the digital space, with the second Face & Body Virtual on May 23-26, 2021. We are bringing an upgraded digital experience to our second show and an amazing partnership with our sister brand MedEsthetics to bring esthetic and medical aesthetic education to one show!
Face & Body Virtual will take the place of Face & Body Southeast (Atlanta) and Face & Body Northern California (San Jose), both of which will not take place in 2021. The safety and happiness of our exhibitors and attendees is of upmost importance, and there are too many unknowns in guaranteeing both safety and success for our in-person partners in 2021. We look forward to connecting and celebrating in-person in 2022.
In 2020, the MedEsthetics brand became a welcome part of the Allured family, which includes Skin Inc. and Face & Body. This gave us the opportunity to enhance the medical aesthetic education we provide at Face & Body like never before. Face & Body Virtual's tagline for 2021, "Where Esthetics and Medical Aesthetics Meet" will be embodied by two full days of business, skin science, treatment and aesthetic medicine education along with two days of manufacturer education and product debuts.
We also have upgraded our digital capabilities to deliver a virtual conference and tradeshow like you have never experienced before. The interaction in your onlineFace & Body dashboard will be fluid, including the ability to interact with presenters, manage your schedule and view what participating companies have to offer.
While we aren't getting back to normal just yet, we can't wait for you to upgrade your digital experience in 2021 at Face & Body Virtual. For more information click here.