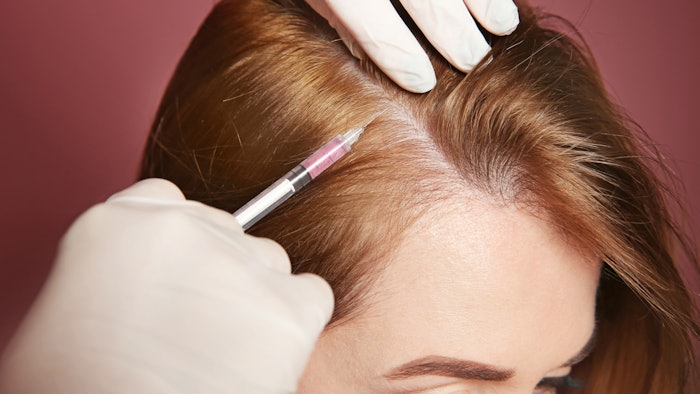 Platelet-rich plasma (PRP) injections help reverse hair loss and improve hair thickness in women struggling with androgenetic alopecia (AGA), according to a study published in the November 2020 issue of the Journal of the American Academy of Dermatology.
For the prospective, randomized, controlled trial, Danielle P. Dubin, MD, et al, treated 30 women diagnosed with AGA. The subjects underwent three sessions of subdermal scalp injections using either the Eclipse system PRP or placebo saline at weeks 0, 4 and 8. At baseline and following treatment, the researchers measured hair density (hair/cm2) and hair caliber (mm). Blinded reviewers performed a global photographic assessment (improved or not improved) at week 24.
The blinded reviewers rated 57% of patients receiving PRP (versus 7% of controls) as improved at week 24. Compared to baseline, there was improvement in mean hair density in the PRP group versus the placebo group at weeks 8 (+71.1 vs −26.7 hairs/cm2) and 24 (+105.9 vs −52.4 hairs/cm2). The researchers also found improvement in mean hair caliber in the PRP group versus the placebo group at weeks 8 (+0.0043 vs −0.0034 mm) and 24 (+0.0053 vs −0.0060 mm). Adverse effects included headache, scalp tightness, swelling, redness and postinjection bleeding.
Read the full study here.