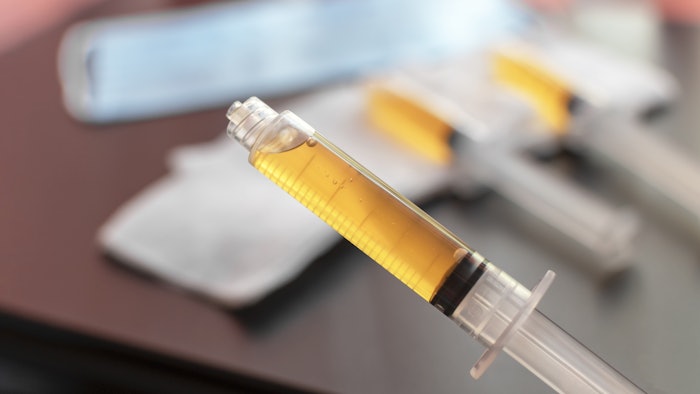 The use of platelet-rich plasma (PRP) in aesthetic procedures has been steadily increasing, but questions have long lingered regarding its efficacy. In an effort to provide guidance to practitioners, researchers Edward Chamata, MD, of Baylor College of Medicine, Houston, and colleagues performed a literature review to identify the evidence behind the most common indications for PRP in medical aesthetics.
Published in Plastic and Reconstructive Surgery (January 2021), the study identified five indications for PRP with good evidence of efficacy and safety:
Skin Rejuvenation
Intradermal and/or subdermal injections of PRP have been shown to improve skin texture and color and reduce wrinkle depth with some studies showing a statistically significant increase in dermal collagen levels compared with saline injections. Topical application of PRP following nonsurgical microneedling has shown a synergistic effect on skin texture and wrinkle depth. Skin pigmentation disorders also have been successfully treated with PRP with studies revealing statistically significant improvement of melasma, both epidermal and mixed types, following treatment with topical PRP following microneedling.
Hair regrowth
The researchers noted that the use of PRP for the treatment of androgenic alopecia holds some of the strongest and most convincing evidence for successful hair restoration. PRP increases proliferation rates of human dermal papilla cells that regulate hair follicle growth. Through binding of growth factors and interactions between dermal papilla cells and primitive stem cells, PRP helps maintain the anagen phase of the hair cycle and delay progression to the catagen phase, which over time leads to an overall increase in hair density.
When combined with hair transplantation, imbibing the micrografts with PRP improves graft take, with studies showing a 15.1 percent average increase in follicular unit density with the use of PRP.
Related: PRP Assessed in the Treatment of Androgenic Alopecia
Acne scars
A split-face trial of microneedling with topical application of PRP compared to microneedling alone for acne scars showed significant improvement in appearance and quality of life in the combination treatment group.
Laser adjunct
When injected intradermally or applied topically after CO2 or Er:YAG laser therapy, PRP not only provides local growth factors for healing, it has been demonstrated to decrease the intensity of erythema after laser treatment and accelerate epithelialization.
The synergistic effect of the PRP and laser have shown statistically significant improvement in skin elasticity for patients receiving combination therapy as well as more obvious improvement in skin color, texture and pore size. Two studies of combination therapy in patients with atrophic acne scars showed significant improvement in the treatment response for atrophic acne scars at six-month follow-up and a higher level of improvement of scar depth and pigmentation.
Fat Graft Viability
Multiple animal studies have confirmed the role of growth factors in angiogenesis and de novo adipogenesis, along with higher fat graft retention rates. In human studies, which have mainly been observational, results of PRP plus fat grafting have been mixed. But the authors note that a majority of the data support the beneficial effects of PRP on fat graft retention.
"Treatments using PRP show great promise for harnessing the body's own natural tissue repair processes to help our patients achieve improved form and function," said Dr. Chamata.