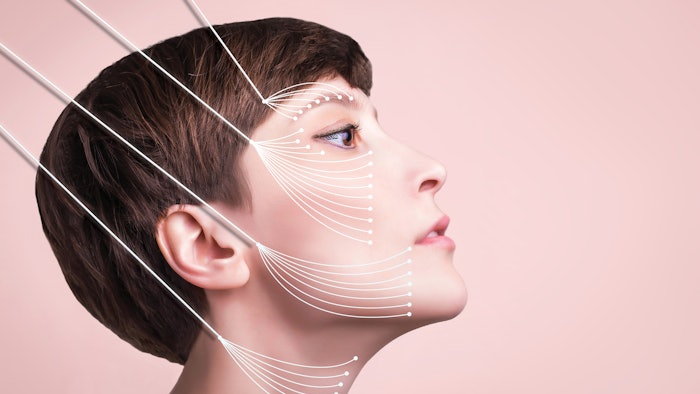 Researchers evaluated the efficacy of polycaprolactone (PCL) threads compared to other commercial threads used for lifting and wrinkle reduction. The findings of the study were published in the Journal of Cosmetic Dermatology (January 9, 2021).
Thirty six-week-old, male, SKH-1, hairless mice were randomized to one of five groups: New PCL (Glo-One), PCL (Ultra-V), PDO (Meta Biomed), PLLA (Apromedion) or control. All threads were 50 mm in length and 0.3 mm in diameter. The researchers implanted the threads at either side of the spine of each mouse.
Related: Medi Future Introduces Next Generation of PDO Thread Lifts
Biopsy specimens were obtained at one, four and eight weeks, and examined using hemotoxylin and eosin (H&E) and Herovici's stain. Immunoblot analysis was also performed using primary antibody for collagen type III and transforming growth factor-β (TGF-β ) and visualized by chemiluminescence and densitometric quantification. Lastly, skin replicas were used to calculate the total wrinkle area. 
All thread types significantly induced collagen at all time points. In the new PCL and pre-existing PCL groups, neocollagenesis was significantly increased by 50% at eight weeks compared to PDO and PLLA threads. Additionally, new-PCL-implanted mice showed a significant increase in collagen type III and TGF-β expression at eight weeks. The number of inflammatory cells was also increased in the skin of PCL-implanted mice, and wrinkles were reduced by 20% in the new PCL group, at eight weeks. 
The authors noted that the PCL material processing technology can be applied not only to threads but also to various products, such as dermal fillers and cosmetics.