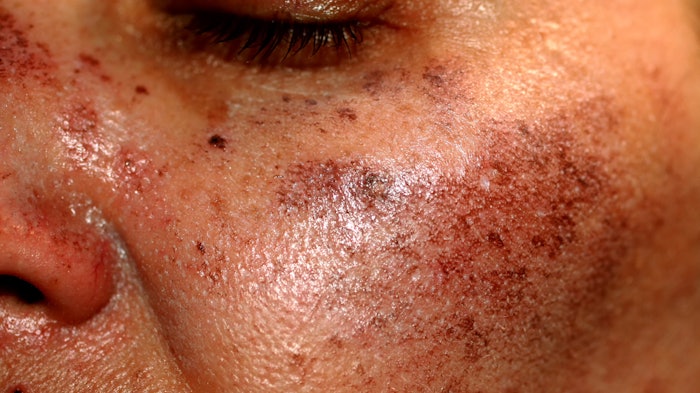 Patients at high risk of post-inflammatory hyperpgimentation (PIH) can benefit from prophylactic use of oral tranexamic acid (TXA) prior to their cosmetic treatments, according to a paper published in the Journal of Drugs in Dermatology (March 2021).
Related: Tranexamic Acid vs. Vitamin C With Microneedling for Melasma
Aleksandra L Lindgren of the University of Queensland – Ochsner School of Medicine in New Orleans, and Andrea H Austin, MD, FAAD, and Kathleen M Welsh MD, FAAD, of Bay Area Cosmetic Dermatology in San Francisco, shared some of their own cases studies of patients treated off-label between 2015–2020 with TXA and reviewed the existing literature for similar indications.
The authors noted that they had successfully treated and/or prevented PIH in approximately 82 high-risk patients (defined as skin types III-VI or those with PIH or with a history of PIH) after injuries or prior to procedures that disrupt the epidermis. In the two case studies presented in the paper, patients with PIH as well as those at high risk of PIH were prescribed 650 mg oral TXA.
"We also have used TXA to prevent PIH after acute injuries such as irritant dermatitis, thermal burns and abrasions," the authors wrote. "We now consider TXA treatment for all at risk patients prophylactically before undergoing microneedling, cryotherapy, cryolipolysis, chemical peels and laser treatments."
Read the full paper here.