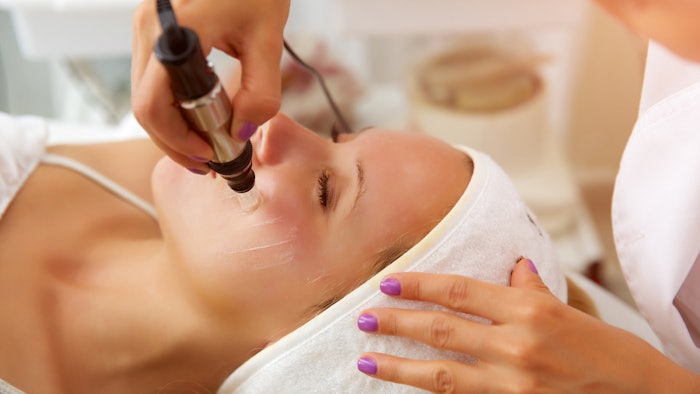 Four sessions of medical microneedling increased epidermal density, dermal muscle and facial skin elasticity, according the results of a study by Jeffrey Kenkel, MD, et al, published in the Aesthetic Surgery Journal (February 28, 2021).
Thirty-five subjects between the ages of 44 and 65 years old with Fitzpatrick skin types I-IV underwent four monthly microneedling treatments over the face and neck. Investigators used high-resolution ultrasonography, optical coherence tomography, transepidermal water loss and BTC-2000 as well as 0.33mm microbiopsies to assess the efficacy of microneedling on facial and neck fine lines and wrinkles.
A total of 32 subjects (93.75% female, 6.25% male) completed all four session as well as a one-month and three-month follow-up. At three months post treatment, facial dermal and epidermal density increased an average of 101.86% and 19.28%, respectively, and facial elasticity increased 28.2% from baseline. Relative collagen type III and elastin gene expression was statistically higher three months post-treatment, but total elastin protein levels were unchanged compared to baseline. More than half (58%) of biopsies extracted three months post-treatment showed dermal muscle formation, compared to 15.3% at baseline.
The authors concluded that "The results illustrate the effects of microneedling treatments. Non-invasive measurements and biopsy data showed changes in skin architecture and collagen/elastin gene expression suggesting skin rejuvenation, with new extracellular matrix production and muscle formation."