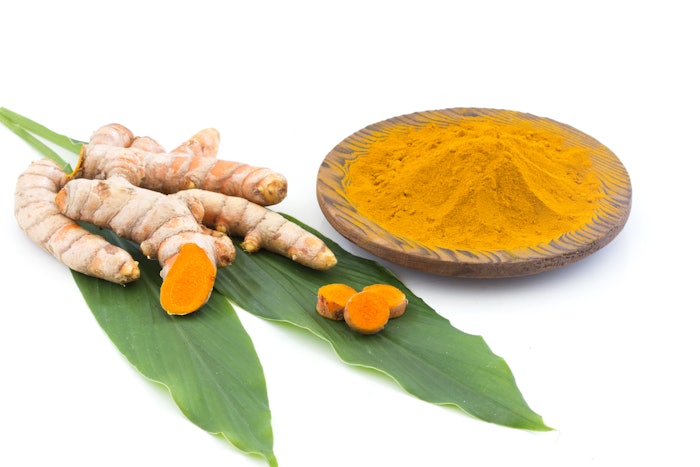 A study performed by a collaborative team from George Washington University School of Medicine and Health Sciences Department of Dermatology and the Albert Einstein College of Medicine, revealed that curcumin may be a viable photoprotective adjuvant to sunscreen when delivered through nanoparticles.
Curcumin is the active component in turmeric. It has anti-inflammatory, antioxidant and wound-healing properties. Previous studies have shown that it can decrease sunlight-induced inflammation, damage to human skin cells and the expression of sun-induced collagen destroying matrix metalloproteinases (MMPs).
Related: Sunscreen for Skin Rejuvenation
The researchers synthesized nanoparticles, which offer sustained topical delivery and enhanced bioavailability, to overcome the limitations of free curcumin, including poor aqueous solubility, rapid degradation and the potential for skin staining.
They then treated BALB/c mice with either curcumin nanoparticles or controls, such as un-encapsulated curcumin in coconut oil, prior to UVB exposure. Twenty-four hours following exposure, the group pretreated with the curcumin nanoparticles showed less erythema than the control groups, including the groups pretreated with free curcumin.
Histopathology showed fewer sunburn cells, and TUNEL assay indicated decreased apoptosis in the treatment group. Immunohistochemistry illustrated less p53 expression in skin pretreated with curcumin nanoparticles, and cytokine analysis revealed significantly less IL-6 and significantly greater anti-inflammatory IL-10 in the skin of the treated mice compared to controls.
"Our results further reinforce earlier cell-based work underscoring curcumin's anti-inflammatory properties and highlight its potential both as a photoprotective adjuvant and therapeutic option for other inflammatory skin diseases when delivered through nanoparticles," said GW medical student Nagasai Adusumilli, the first author on the study.
The study was published in Experimental Dermatology.