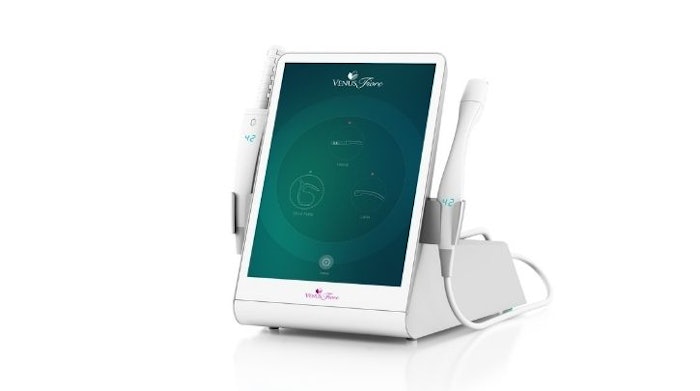 Courtesy of Venus Concept
Venus Concept has received a medical device license issued by Health Canada to market the Venus Fiore Feminine Health System in Canada.
With the CE Mark and the medical device license, Venus Concept can begin the launch of the Venus Fiore in Canada and the European Union in the third quarter of 2021.
Venus Fiore has three treatment offerings in one platform: internal vaginal treatment to address vaginal atrophy and laxity, labia skin tightening and mons pubis skin tightening.
Each treatment uses a single-use disposable tip for improved safety and hygiene. The vaginal applicator has a multi-electrode design that delivers (MP)2 (Radio Frequency and Pulsed Electro Magnetic Field) energy. The Venus Fiore also utilizes external labia and mons pubis applicators. 
"We look forward to the commercial introduction of our unique, multi-treatment system for women in Canada and the European Union," said Domenic Serafino, chief executive officer and director of Venus Concept. "Venus Fiore is the first and only true stationary positioning solution in the market, designed to effectively address some of the most common feminine health conditions and concerns with the physical appearance of the vaginal area. Typically, these procedures require three, 15-minute treatments, approximately one month apart to optimize results."