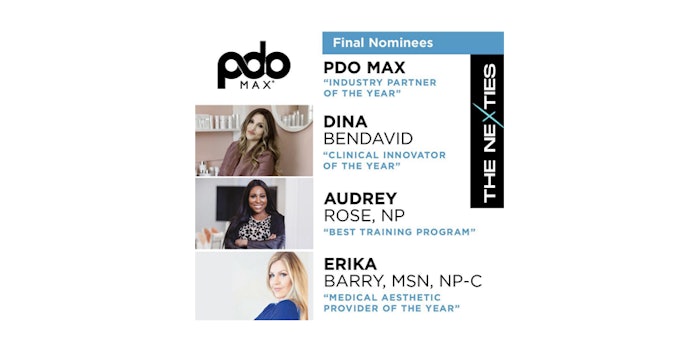 Courtesy of PDO Max
PDO Max is a finalist in two categories for the Aesthetic Next 3.0's "Nexties": Industry Partner of the Year and Clinical Innovator of the Year.
Aesthetic Next is a multi-disciplinary industry conference, specializing in clinical applications, practice management and technology-enabled growth for aesthetic practices. 
Nominations are based on peer submissions.
"I attribute our success to our talented and caring team, especially during a very challenging year. They bring their passion to work every day, and focus on training physicians and their medical staff in the best practices for device-based aesthetic medicine treatments. I am forever grateful to my team and our colleagues who nominated us," said PDO Max's founder and CEO, Giovanna McCarthy. 
Dina BenDavid, PDO Max's director of training and clinical development, is a final nominee for the Clinical Innovator of the Year. This award represents individuals who "have collectively trained thousands of hours, developed new products, created unique programs, launched new safety measures and put new procedures on the map," the Aesthetic Record states.
"I am beyond humbled for the nomination, and amongst such incredible industry masterminds! I am so blessed that I get to share my passion for PDO threads with the world, and hope I continue to inspire my colleagues and empower my patients for many years to come," said Ben David.
Voting is open now through September 5, 2021. Winners will be announced September 11, 2021.