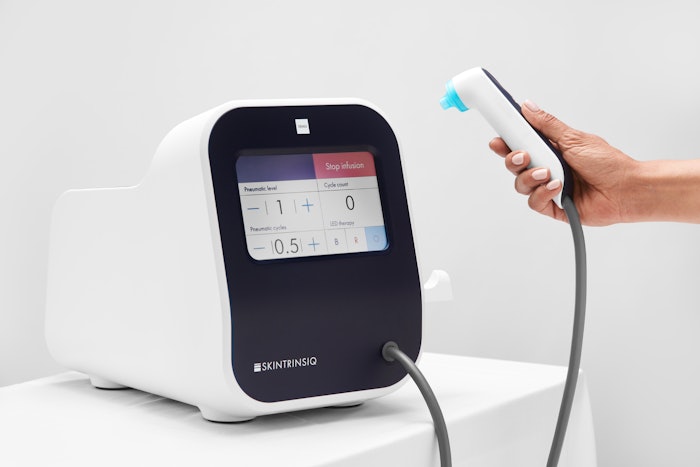 Courtesy of Obagi
Obagi, developer of science-based, professional skin care products, is now offering its first skin care device, the Skintrinsiq.
The Skintrinsiq device uses Obagi InfuseIQ Technology to lift the upper layers of the skin, allowing impurities to be extracted and Obagi products to be absorbed. When the Skintrinsiq extraction vacuum stops, the channels close so that products are locked in and can continue working after the treatment is over.
Skintrinsiq treatments can be tailored for all skin types and skin care goals, including fine lines and wrinkles or brightening the skin for a more even complexion.
"The unique design of the Skintrinsiq device combined with its exclusive availability in the physician-dispensed and spa channels allows physicians and other healthcare practitioners to provide an efficacious treatment for the skin that capitalizes on the science and heritage of Obagi products," said Jaime Castle, Obagi president and CEO. "We know during the pandemic that skin care products for our physician customers increased in importance to their businesses, with demand from patients reaching unprecedented levels. Skintrinsiq's value proposition is that the treatment has the ability to draw more patients into a practice to experience Obagi products, which will then lead to increased sales of the products."