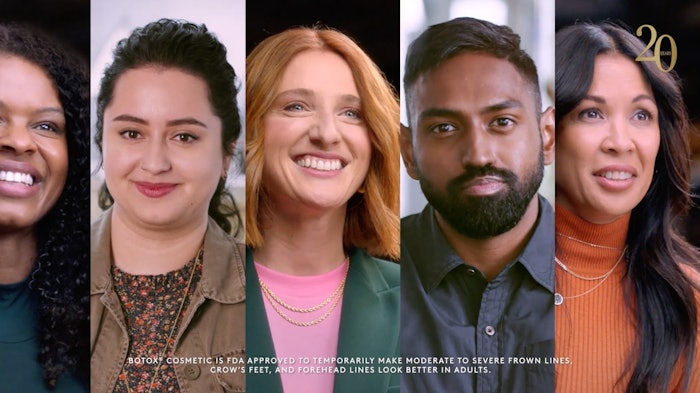 It has been 20 years since the U.S. Food and Drug Administration approved Botox (onabotulinumtoxinA) for aesthetic indications, and Allergan Aesthetics is celebrating with a new documentary-style film, art installation and special offers for consumers.
On April 15, 2002, the FDA approved Botox Cosmetic to temporarily improve the look of moderate to severe glabellar lines with two additional indications (crow's feet and forehead lines) approved in 2013 and 2017.
"It has been remarkable to see how Botox Cosmetic has evolved in 20 years, one scientific study at a time that showcases the clinical significance of this treatment," said Dr. Jean Carruthers, MD, FRCSC, FRC (Poth). "Botox Cosmetic has not only changed the trajectory of my career but also the way the medical aesthetics community practices and teaches."
Allergan and Botox Cosmetic are bringing the anniversary celebration to the public with an art installation, which will be on a cross-country tour. Visitors can immerse themselves in a visual, interactive experience that takes them on a celebratory journey of self-affirmation. The installation will be unveiled in New York City on Friday, April 22 at 9 am ET and will be open to the public until Saturday, April 23rd before traveling to Chicago from Friday, May 6 to Sunday, May 8 and finally, Los Angeles from Friday, May 20 to Sunday, May 22. Starting on May 30 a version of the installation will be featured at Resorts World in Las Vegas for eight weeks. Anyone who visits the art installation will be eligible to receive an exclusive Botox Cosmetic offer through Allē, Allergan Aesthetics' loyalty platform, while supplies last.
Additionally, to spotlight the people behind the product, the celebration will feature a documentary style video highlighting real patients and providers of Botox Cosmetic—helping to paint a colorful picture of how and why people continue to see Botox Cosmetic as a treatment for someone like them.
"This celebration is about reflecting on the people who helped make Botox Cosmetic a household name," said Carrie Strom, senior vice president, AbbVie, and president, Global Allergan Aesthetics. "We celebrate our customers, our colleagues and all the patients who have been a part of our success. We remain dedicated to Botox Cosmetic, the first product of its kind on the market. We are passionate about continuing to drive this market forward, and our experienced team is working closely with healthcare providers to ensure we are delivering meaningful innovations that the market needs with our commitment to ongoing research."
Allergan Aesthetics is also offering exclusive Botox Cosmetic offerings to both new and loyal patients starting in April. These offerings include a chance to win a trip for two to see Resort World's new Allē Lounge on 66, in addition to tickets to a concert. Register for the chance to win between April 15th and April 29th by visiting botoxcosmetic20thcelebration.com and following the steps on the site.
Those who would like to attend the art istallation and/or register for the sweepstakes and gift card offering must join Allē, Allergan Aesthetics' loyalty program, in order to register.