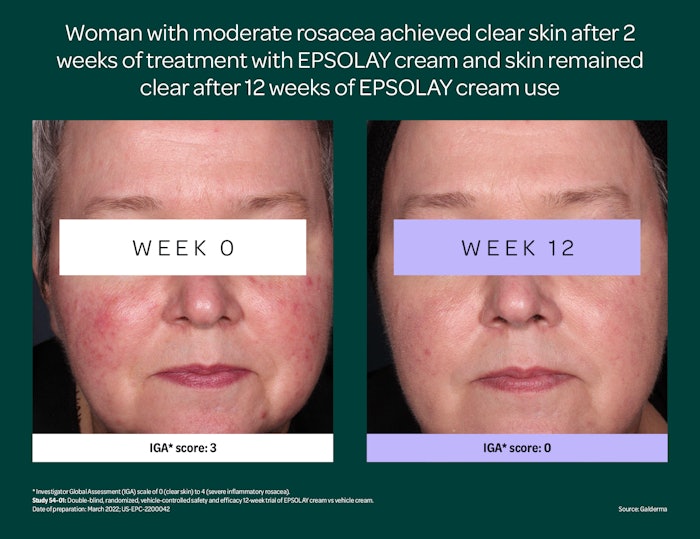 Courtesy of Galderma
Sol-Gel Technologies has announced FDA approval of its drug product, EPSOLAY, a proprietary cream formulation of benzoyl peroxide, 5%, for the treatment of inflammatory lesions of rosacea in adults.
Sol-Gel is a dermatology company focused on identifying, developing and commercializing branded and generic topical drug products for the treatment of skin diseases.
Sol-Gel has granted Galderma the exclusive rights to commercialize EPSOLAY in the U.S. 
"Galderma is committed to delivering innovation in dermatology so that healthcare professionals and their patients have the products they need," said Baldo Scassellati Sforzolini, M.D., Ph.D., global head of research & development at Galderma. "People with rosacea experience a significant burden of disease with diminished quality of life and the approval of EPSOLAY represents an important advancement for those who are living with rosacea. We are pleased to be able to launch EPSOLAY and look forward to bringing this new treatment option to the United States."
The benzoyl peroxide in EPSOLAY is encapsulated in silica-based patented microcapsules. The silica-based microcapsules slowly release benzoyl peroxide over time to provide a favorable efficacy and safety profile.
With EPSOLAY treatment, inflammatory lesions of rosacea were reduced by nearly 70% by the end of both 12-week trials vs. 38%-46% with vehicle. Nearly 50% of subjects were 'clear' (IGA=0) or 'almost clear' (IGA=1) at 12 weeks vs. 38%-46% with placebo. Post-hoc analysis of lesion count and IGA success at Week 2 confirmed a greater treatment effect for EPSOLAY relative to vehicle as early as Week 2. 
"Having EPSOLAY approved by the FDA is a watershed moment for the 16 million people in the United States suffering from rosacea," stated Alon Seri-Levy, PhD, CEO of Sol-Gel. "Based on the robust clinical data, we believe that EPSOLAY has the potential to change the treatment landscape. We are proud to have Galderma as our partner to launch this drug since Galderma has an unparalleled track record of introducing innovative drugs in the United States' rosacea market," said Dr. Seri-Levy.