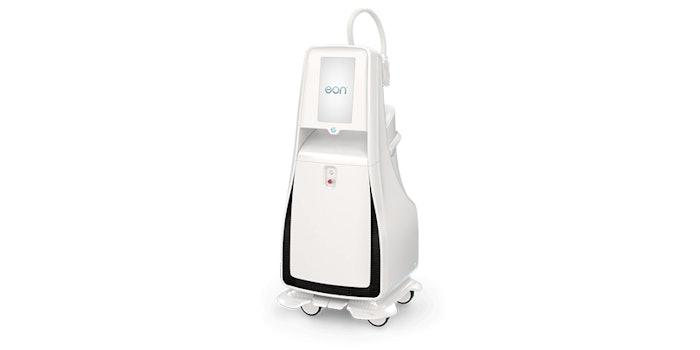 Courtesy of EON Smarter Body Contouring
Dominion Aesthetic Technologies has received an additional U.S. Food and Drug Administration Clearance for its EON Smarter Body Contouring device for noninvasive laser lipolysis of adipose tissue of the flanks.
The EON Smarter Body Contouring device is a robotic, touchless and 1,064nm laser.
The treatment head delivers consistent laser energy while heating adipose tissue up to 51°C. Jet-impingement cooling technology and real-time monitoring create a comfortable patient experience with temperature differential of 11.5°C.
The device maps the body's topography for a personalized treatment, while accurately delivering fat-reducing energy.
Flanks can be treated in 40 minutes and an entire abdomen can be treated in 60 minutes. This is the second clearance for EON, previously cleared as a 510(k) device for full abdomen. 
Dr. Thomas Fiala led a 12-week study using the device's 110 cm treatment pattern on each flank. The study included 11 patients, ranging in age from 24 to 63, with body mass indexes between 22.3 and 34.2. The results showed an average fat loss of 6.1 mm after a single segment session. The study also confirmed the safety of the device for treating subcutaneous fat on flanks.
"The FDA clearance for flanks treatment is a natural addition for our current abdominal fat reduction protocols with EON. We are proud to bring further value and outstanding results to our EON providers and patients through our safe and effective body contouring technology," said Christian Bloomgren, president and CCO for Dominion Aesthetic Technologies.