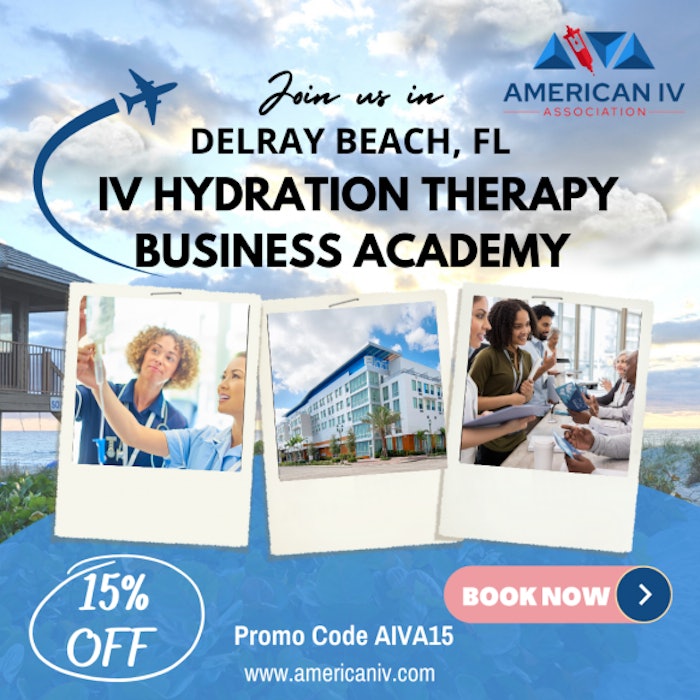 The American IV Association recently launched their IV Hydration Therapy Business Academy, a one-day event providing support and education to providers, owner and operators on what it takes to build and expand a successful business. After hosting the first of these signature educational events on August 20th, news spread and demand skyrocketed for the second event. The second IV Hydration Business Academy event, scheduled for September 16th in Delray Beach, Florida, received such high demand for attendance that the American IV Association had to expand its venue space to include the largest classroom-style seating arrangements available and increase its dedicated exhibit hall space.
Related: 5 Treatments That Include IV Drip Therapy

The event features dynamic, hands-on exhibits and exclusive event offers by industry executives and vendors, as well as educational presentations providing guidance and strategy from top business, legal and marketing industry leaders. "Business procedures, marketing focuses, and regulatory compliance are all essential pillars for new and established IV hydration therapy businesses," said AIVA's COO, Gina (Meyer) Hardiman. "Attendees at these programs will learn how to: secure their operational & financial success, optimize client's health, remain compliant with state rules & regulations, and create a sustainable income platform."
Speakers at the upcoming IV Hydration Therapy Business Academy event will include Alicia Calderin of CARR Realty, Mara Shorr of Shorr Solutions, Jennifer Kraatz of ImprimisRx, Audrey Neff with PatientNow and Jeff Cohen, founder of the Delray Beach-based Florida Healthcare Law Firm. The enthusiasm for the American IV Association's Business Academy shows just how much industry professionals are eager for more educational events like this one. "Educating an eager audience about all the business and legal facets of this niche industry not only helps create sustainability but it is always a lot of fun. We are excited to be at the forefront of shaping the future of IV hydration therapy," says Autumn Piccolo, Vice President of the American IV Association.