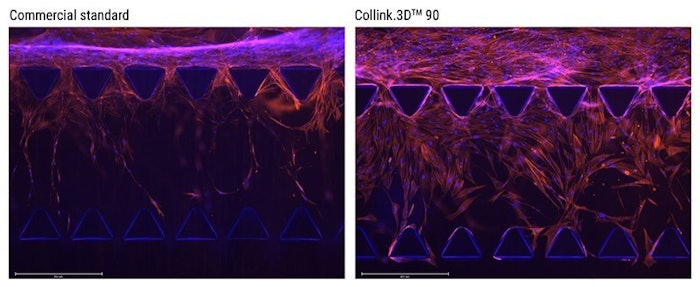 Photo courtesy of CollPlant
CollPlant announced the company is launching Collink.3D 90, a recombinant human collagen (rhCollagen)-based bioink for use in a variety of 3D bioprinting applications. 
Related: CollPlant Launches Porcine Study for 3D Bioprinted Regenerative Breast Implants

Collink.3D 90 is complementary to CollPlant's first commercial bioink, Collink.3D 50, which was launched late 2021, offering increased mechanical properties to address additional printing requirements of soft and hard tissues.
Bioinks are applied to a range of soft and hard tissue engineering applications, with each tissue or organ specific mechanical requirements for fulfilling physiological needs. The most suitable bioink is required for a given application to mimic the physical properties of the target tissue or organ, while ensuring high cell survival. 
Regenerative Breast Implants 
In a previous article, we looked into CollPlant's 3D bioprinted regenerative breast implant program. The bioprinted regenerative implants aim to overcome the challenges of existing breast procedures that utilize silicone implants and autologous fat transfer. This newest complementary bioink, Collink.3D 90, brings them closer to making these bioprinted regenerative implants a reality, which would be a truly groundbreaking development for the medical aesthetics industry. 
Related: CollPlant to Present at the International Conference on Biofabrication 2022
"We are very excited to continue to broaden our rhCollagen-based bioink offerings, providing our biopharma and academic customers the ability to print a variety of applications," said CollPlant CEO, Yehiel Tal. "We believe our bioinks deliver a favorable alternative to existing commercial bioinks owing to their high bio-functionality, rheological properties (e.g., controlled viscosity) and high purity."
Endless Possibilities
Collink.3D 90 demonstrates faster human cell migration into gel matrices compared with a commercial hydrogel commonly used for 2D and 3D cell culture. Cell migration plays an important role in physiological processes including tissue repair and regeneration, and these initial results indicate the potential for Collink.3D 90 to perform as a human cell culture substrate. 
Collink.3D enables the high-resolution, scalable and reproduceable 3D bioprinting of scaffolds that accurately mimic the physical properties of human tissues and organs, with improved bio-functionality, safety and reproducibility. Applications for Collink.3D include its use in 3D cell culturing, tissue modeling for drug discovery and development, as well as engineering tissues and implantation of organs in regenerative medicine.