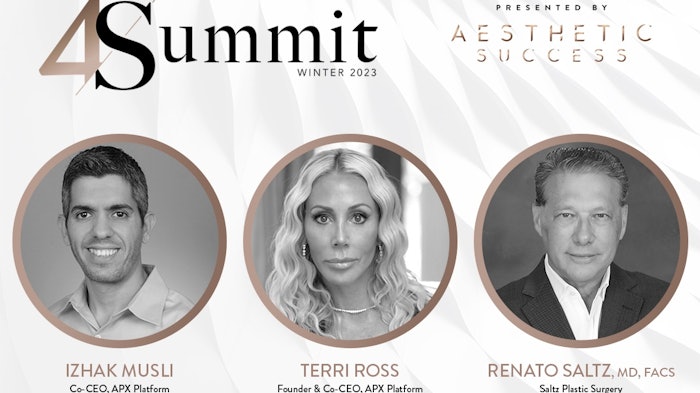 Photo courtesy of 4S Summit
Renowned plastic surgeon, Renato Saltz, M.D., and international aesthetic industry experts, Terri Ross and Izhak Musli, announced their inaugural 4S Summit for aesthetic medicine business owners and managers in Park City, Utah on Feb. 16, 2023. 
The 4S Summit's mission is to provide the tools and guidance for strategies, structure, system and skills to strengthen their businesses. The event will help attendees master every aspect of their aesthetic practice. 
This one-day intensive summit, in conjunction with the American-Brazilian Aesthetic Meeting (ABAM), brings together a community of aesthetic industry professionals, key opinion leaders, and decision makers, combined with plastic surgeons, cosmetic dermatologists, medspa owners and practice managers. 
Related: Epigenetic Aging Was the Hot Topic at the Academy of Anti-Aging Medicine's 30th Annual Longevity Fest
"We developed the 4S Summit to help aesthetic medicine professionals see their practices from an entirely new perspective," said Ross, co-founder of Aesthetic Success. "The business fundamentals, confidence, and competence attendees will walk away with will serve as a compass for continued growth. This is not a one-and-done summit. The tactics and strategies will have lasting effects for years to come."
Attendees should be prepared to complete personalized assessments and worksheets throughout the informative sessions. By the end of the event, participants will leave with tactical, actionable strategies for creating permanent shifts in their medical aesthetic business that they can implement immediately.