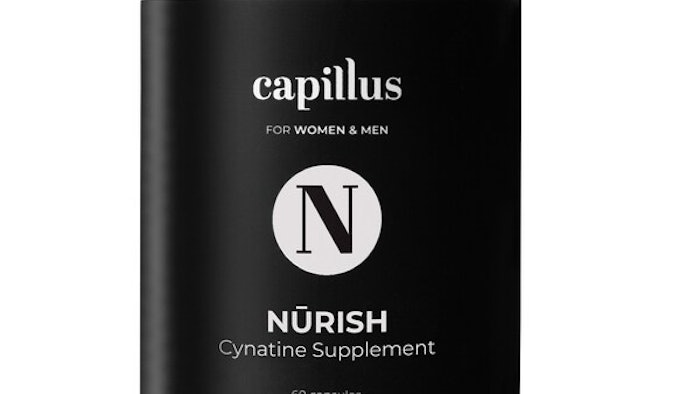 Photo courtesy of Capillus
Capillus announced the launch of Nurish, its first line of hair supplements made with Cynatine HNS, a cosmeceutical ingredient derived from natural proteins found in the body. 
The Nurish supplement is formulated to provide the key building blocks the body needs to grow stronger, healthier hair with clinically proven ingredients. 
"As a premier provider of hair restoration medical devices backed by more than 10 years of market relevance and happy customers, we are very excited to launch a science-backed hair supplement that will help those on their journey to healthier hair growth," said Domingo A. Moreira, chief executive officer of Curallux, LLC, the parent company of Capillus. "As a company we are committed to bringing our customers the best treatment options and technology possible, to help alleviate the stress and embarrassment that many face due to hair loss."
Related: Common Causes of Hair Loss In Men and Best Treatment Options
Cynatine HNS, the featured ingredient in the Nurish supplement, is a bio-available form of Keratin. Cynatine HNS is clinically proven to improve hair tensile strength and luster, shine and brightness, as well as assist in growing stronger nails. 
In a study by the Scientific World Journal, Cynatine HNS was shown to help boost the delivery of keratine peptides to the body, particularly to the hair and nails. Over the course of the study, participants showed significantly less hair loss and improved hair shininess and brightness. 
The use of Nurish supplements in combination with daily treatment of the company's Capillus Cap will improve hair health and strength and promote the growth of new hair for both men and women. Capillus caps help treat hair loss by delivering low-level laser therapy (LLLT) directly to the hair follicles, which is shown to increase cell metabolism yielding thicker hair, and is FDA-cleared for the treatment of androgenetic alopecia.