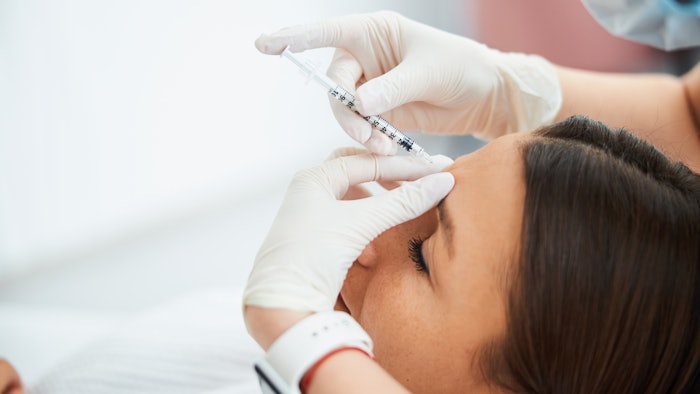 Revance Therapeutics, Inc. has announced the publication of two peer-reviewed articles in the Aesthetic Surgery Journal, that highlight the nuances of glabellar line (GL) injection technique and aim to improve patient outcomes, irrespective of the neuromodulator used.
Related: Lip Flips with Botox Can Fix Gummy Smiles
Glabellar lines, or frown lines, are vertical lines that appear between the eyebrows. They are caused by small muscles between the eyebrows and forehead.
The peer-reviewed articles assess injections of Daxxify (daxibotulinumtoxinA) as an acetylcholine release inhibitor and neuromuscular blocking agent indicated for the temporary improvement in the appearance of moderate to severe glabellar lines associated with corrugator and/or procerus muscle activity in adult patients.
The first article, "Impact of Glabellar Injection Technique with DaxibotulinumtoxinA for Injection on Brow Position," demonstrates the impact of subtle variations in glabellar line injection technique on eyebrow position, and the second, "Integrative Assessment for Optimizing Aesthetic Outcomes When Treating Glabellar Lines with Botulinum Toxin Type A: An Appreciation of the Role Of The Frontalis," proposes an assessment algorithm focused on anatomical principles, allowing for an individualized treatment approach.
The leading authors for the first article were Vince Bertucci, Jeremy B. Green, John P. Fezza, Jessica Brown and Conor J. Gallagher, and for the second article,Bertucci and Gallagher collaborated with Jean D. Carruthers, Deborah Sherman and Jessica Brown.
"These newly published manuscripts demonstrate Revance's commitment to improving aesthetic patient outcomes," said Conor Gallagher, vice president of medical affairs and scientific innovation at Revance. "We show for the first time, with supporting data, that small differences in glabellar line technique can impact both static and dynamic brow position outcomes. Although glabellar line treatment is often considered straightforward, secondary effects on eyebrow position can impact the broader aesthetic outcome, beyond the simple reduction of the frown lines."