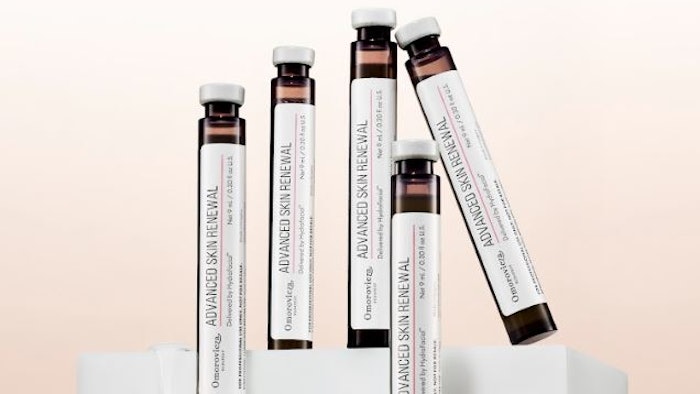 Photo courtesy of Hydrafacial & Omorovicza
Hydrafacial announced the global launch of a new booster co-created with Hungarian skin care brand, Omorovicza. The booster leverages Omorovicza's patented Healing Concentrate to unlock a youthful complexion, leaving skin feeling rejuvenated. 
The Healing Concentrate is combined with other essential ingredients and delivered through Hydrafacial's hand piece and vortex fusion technology, allowing the nourishing ingredients to penetrate the skin.
Omorovicza's concentrate captures the curative power of the mineral-rich thermal baths of Budapest, transforming the minerals through a bio-fermentation process into a bio-available complex that penetrates to the deepest layers of the skin.
Related: Treat Body Breakouts & Loose Skin with Hydrafacial's Hydrabooty Treatment
Key Booster Ingredients
Retinol and vitamin C supports overall skin firmness and elasticity.
Hyaluronic acid and niacinamide works to plump skin and smooth texture.
Amino acids and arabinogalactan detoxes and oxygenates to help revitalize and renew lackluster skin.
"Omorovicza is delighted to partner with Hydrafacial to create an exclusive protocol which delivers and enhances the power of Budapest's curative waters. The Advanced Skin Renewal Super Booster contains a potent dose of Healing Concentrate, a unique patented ingredient which powers all of Omorovicza's products. When the booster is used in conjunction with HydraFacial's cutting-edge technology, the exciting fusion of the brands' innovations enables a skin-reset," said Omorovicza's founder, Stephen de Heinrich de Omorovicza.
The Hydrafacial and Omorovicza Advanced Skin Renewal booster is now available at providers across the U.S., Canada, UK, Ireland, France, Spain, Portugal, Germany, Austria, Switzerland, Belgium, Netherlands, Luxembourg, Italy and Malta.