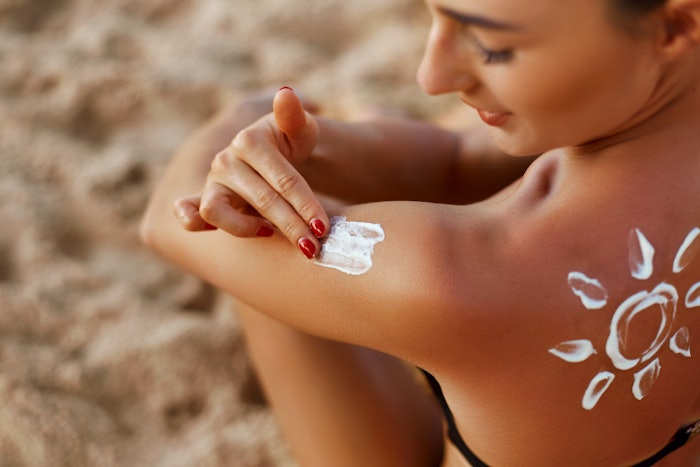 Credit: verona_studio - stock.adobe.com
Getting patients to not only wear sunscreen in the first place, but then reapply it regularly can be a nearly impossible task. In a survey conducted by the American Academy of Dermatology (AAD) in support of Skin Cancer Awareness Month in May revealed some surprisingly discouraging results. Skin cancer is one of the most preventable types of cancer, yet a recent survey of more than 1,000 U.S. adults found that 61% of Americans are not concerned about developing skin cancer, even though 67% of respondents have characteristics that put them at risk.
The data only gets worse when it comes to the response from younger demographics. The survey found that 71% of Gen Z adults are unfamiliar with the risks associated with sunburn, with 40% being unaware of tanning risks and 59% believing tanning myths, such as tanning is healthy, and a base tan will prevent sunburn.
Another nationwide survey conducted in June 2023 by Health Canal revealed most American adults lack the knowledge and attitudes to prevent skin damage from sun exposure. The survey showed that many American adults expose themselves to the sun for vitamin D production and tanning, despite the associated risks, and only 16% of respondents always wear sunscreen during the summer, including cloudy days, and even fewer in the spring and fall. 
Just getting people to wear sunscreen in general is a challenge, let alone convincing them to reapply it regularly throughout the day after they've applied their makeup. New types of sunscreen can help address this through more makeup friendly delivery methods, such as sunscreen balms or sticks and sunscreen powders. The question remains as to which of these are most likely to increase patient reapplication of sunscreen throughout the day, so we asked which type you recommend to your patients. 
In our recent survey which asked, Which method do you recommend to your patients for applying sunscreen over their makeup: A. Lotion B. Powder C. Balm/Stick? 28% of readers said Lotion, 62% said Powder and 10% said Balm/Stick.  
With the significant number of Americans still not taking sun protection seriously and the very real danger of getting skin cancer, not to mention the benefits of using sun protection for preventing signs of aging and keeping skin healthy and beautiful, finding products that will appeal to even the pickiest patient can go a long way towards getting Americans to get on the sun protection bandwagon. Here are five informative MedEsthetics articles to help you do just that.
Check back every Tuesday for a new one-click survey.
We'll reveal the answers in next week's MedEsthetics newsletter.