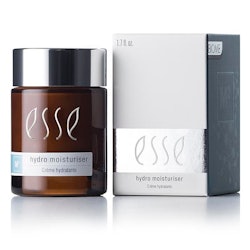 Esse Skincare Hydro Moisturizer hydrates and protects skin using probiotic extracts and prebiotic nutrients in an ultra-gentle, light Aloe base to soothe sensitive skin.
Esse's Protect Oil uses Ximenia Oil to nourish, moisturize, soften and revitalize all skin types. Skin feels noticeably firmer and more resilient. A major component of Ximenia oil is Ximenynic Acid. This acid contains a rare triple bond in its carbon chain. When exposed to UV light or free radicals, each triple bond breaks and links with other chains to form a protective polymer much like a coat of armor.
Hydro Moisturizer Main Benefits:
Biome+ Level 2 and 3 formulation means an extract of Lactobacillus positively shifts microbial populations for healthy, radiant skin.
Provides low to medium oil nourishment.
Soothes and protects.
Smooth fine lines and promotes elasticity.
Absorbs with ease.
Hydro Moisturizer Key Ingredients:
Prebiotics and Probiotics: support a healthy skin microbiome to heal and protect the skin.
Aloe Vera: calms and soothes.
Jojoba Oil: unblocks follicles and modulates oil production.
Hyaluronic Acid: improves hydration and decreases fine lines.
Vitamins C & E: antioxidants that promote skin healing and elasticity.