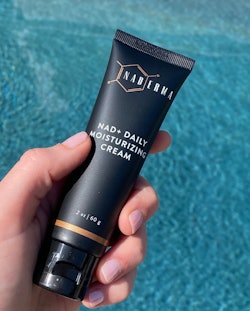 Naderma's NAD+ Daily Moisturizing Cream hydrates and energizes the skin with a powerful blend of snail mucin, Nicotinamide Adenine Dinucleotide (NAD+), antioxidants and probiotics. NAD+ is an organic coenzyme found within cells that is responsible for cell energy, DNA repair and DNA transcription. As a vital source of energy within the cell, NAD+ supports healthy aging by encouraging balanced biological reactions. These processes are critical for maintaining health and lengthening lifespan.
NAD+ levels rapidly decline with age, which can contribute to fatigue, inflammation, illness and deteriorating health. Applying NAD+ directly to the skin cells has been found to increase the production of collagen, elastin, hyaluronic acid, and keratin. 
The NAD+ cream also contains soothing neutral pH Vitamin C to balance uneven skin tone and plump the skin for enhanced radiance, along with coconut oil, chamomile and snail secretion filtrate. For best results, use the cream twice daily, in the morning after NAD+ Power Serum and at night after NAD+ Recovery Serum.
Ingredients
DI Water, Stearic Acid, Cetyl Alcohol, Cocos Nucifera (Coconut) Oil, Glycerin, Propane-dial, Ethyl Macadamiate, Potassium Cetyl Phosphate, Glyceryl Stearate, Snail Secretion Filtrate, Disodium EDTA, Hydroxyethyl Cellulose, Nicotinamide Adenine Dinucleotide, Ascorbyl Linoleate, Ethyl Olivate, Cocoglycerides, Tocopheryl Acetate, Dimethicone, Lauryl Lactate, Chamomilla Recutita (Chamomile) Flower Extract, Panthenol, Lactococcus Ferment Lysate, Myristoyl Tetrapeptide-13, Polyacrylamide , Cl3-14 Isoparan, Laureth-7, Phenoxyethanol, Caprylyl Glycol