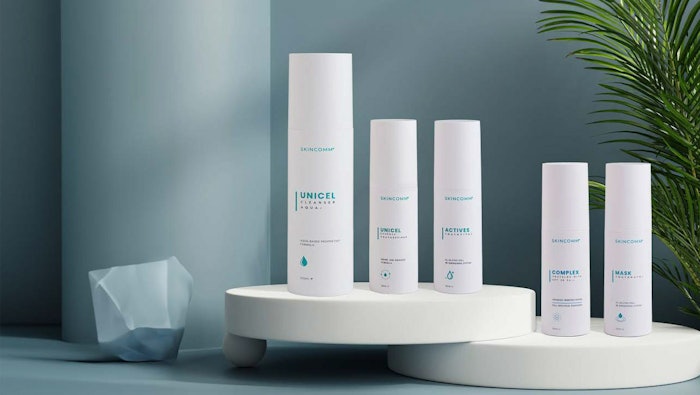 SKINCOMM UNICEL System comprises five products containing powerful, non-comedogenic anti-aging active ingredients combined into two proprietary science-based compounds. The dermatologically tested skin care line was developed by Dr. Eileen Lee, founder and CEO of SKINCOMM, and is suitable for virtually all skin types, including sensitive and eczema-prone skin.
SKINCOMM AL-GLUTAS regenerates and re-energizes skin cells, repairing damage and defects at the cellular level, and addressing pigmentation, sagging, fine lines, wrinkles, fatigue and stress-related issues. It blends peptides from France that stimulate pro-collagen production, fatty acids that strengthen the skin, repair damaged lipid barriers, reduce water loss, and increase hydration, and beneficial botanical extracts that safely lighten, brighten, and even out the skin tone. Hyaluronic acid hydrates, minimizes fine lines and changes wrinkle depth as nano-hyaluronic acid penetrates deeper into the skin.
SKINCOMM TriDefenx protects the skin from UVA rays that penetrate deeply into the skin and can pass through glass, as well as UVB rays that damage skin cells and cause DNA mutations that could potentially lead to skin cancer and melanoma. Additionally, it reduces damage caused by, heat, infrared rays, and blue light – a crucial feature given the increasing use of devices.
"In tests, SKINCOMM UNICEL ACTIVES YouthVital was found to increase pro-collagen growth by 54% in three days due to its ability to prevent atrophy and keep skin hydrated, supple, and dense," said Dr Lee. "The 429% increase in elastin in three days correlated with the use of the products rather than no treatment, and the 58% reduction in melanin production and improved brightness proved the effectiveness of both products in providing a nearly flawless, brighter complexion in 21 days."
Five-Step Routine
STEP 1: UNICEL Cleanser Aqua+
This mild, non-drying cleanser is suitable for even sensitive and dry skin types. With Chamomile, Cucumber, Aloe, and Matricaria botanical extracts, it soothes irritated skin and eliminates excess oil and impurities. As Hyaluronic Acid hydrates the skin, Panthenol binds water to the skin, reducing inflammation and strengthening the protective barrier.
Directions: Lather 1 to 2 pumps in the palm of your hand and work it into the face and neck in circular motions. With water, rinse well. It is suitable for all types of skin, including eczema, psoriasis, acne, and skin that is pre- or post-surgery.
STEP 2: UNICEL Essence YouthRefiner
This toner-softener prepares the skin for subsequent products. The antioxidants in fruit extracts, such as lemon, pineapple, and passionfruit, prevent cell damage. It also contains Polyhydroxy Acids (PHAs), a gentler alternative to AHAs and BHAs, that restore smoothness and brightness to the skin. Three molecular sizes of Hyaluronic Acid provide deep hydration and conditioning.
Directions: Apply 1 to 2 pumps to the face and neck and massage gently. Wait 3 minutes for the actives to be fully absorbed before applying Step 3. It is suitable for all types of skin, including eczema, psoriasis and acne.
Step 3: UNICEL ACTIVES YouthVital
People with fine lines, wrinkles, hyperpigmentation, and uneven skin tones will benefit most from this product. With SKINCOMM AL-GLUTAS, this hero serum boosts rejuvenation at a cellular level and stimulates pro-collagen and elastin production.
It is also not uncommon to see a noticeable improvement in suppleness, smoothness, skin tone, and hyperpigmentation in a matter of weeks.
Directions: Gently pat 1 to 2 drops across the face, including the eyelids and undereye area, and the neck. It is suitable for all types of skin, including eczema, psoriasis, acne, and pre- or post-surgery skin.
Step 4: UNICEL COMPLEX YouthLoc SPF30 PA++
This lightweight moisturizing day cream locks in YouthVital's AL-GLUTAS and creates a defensive barrier offering SPF30 PA++. SKINCOMM TriDefenxTM System makes it stand out from the rest for protecting the skin against UVA and UVB rays, plus damage by blue light, infrared rays, heat, and other free radicals. Additionally, phyto extracts, antioxidants, and Hyaluronic Acid enhance hydration and boost pro-collagen, smoothing the skin and giving it a glowing appearance.
Directions: Dot 1 to 2 pumps onto the face and neck and spread evenly. Reapply after swimming or spending a lot of time in the sun. It is suitable for all types of skin, including eczema, psoriasis, acne, and pre- or post-surgery skin.
Step 5: UNICEL MASK YouthNutri
This multifunctional product provides nourishing night-time rejuvenation as you sleep. By continuously re-energizing and regenerating skin cells, as well as minimizing and delaying signs of aging, SKINCOMM AL-GLUTAS reveals a more youthful, firmer, and nearly flawless complexion day after day. With antioxidants and amino acids, it also gives your skin a glowing, translucent appearance, while hyaluronic acid soothes and moisturizes.
Additionally, the product combines botanical extracts with natural skin fillers to reduce fatigue and plump up fine lines and wrinkles – perfect for a vitality booster. Applied before UNICEL COMPLEX YouthLoc in the morning, it provides a sometimes much-needed boost of moisture.
Directions: Apply a thin layer, one pump at a time, and spread over the face, including the eye area, and neck before bedtime as a sleeping mask. Apply a thin layer before UNICEL COMPLEX YouthLoc if you need an anti-aging skin boost during the day. To use as an emergency skin perk-me-up, apply a thin layer and leave it on for 15 minutes before wiping it off. It is suitable for all types of skin, including eczema, psoriasis, acne, and pre- or post-surgery skin.