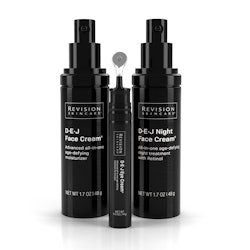 Revision Skincare's D·E·J System is a full-sized regimen packed with age-defying products that address the visible signs of aging in the AM and PM.
System Includes
DEJ Face Cream (AM) is an advanced skin-renewing moisturizer that firms, lifts and smooths the skin utilizing a comprehensive formula to deliver results.
DEJ Night Face Cream (PM) is an intensive nighttime moisturizer that features a unique combination of time-released 0.25% Retinol and plant-based bakuchiol in a hydrating, antioxidant-rich formula that minimizes irritation and can be used on all skin types.
DEJ Eye Cream (AM & PM) is a comprehensive eye treatment that is clinically-proven to rejuvenate the total eye area and target drooping eyelids, under-eye crepiness, crow's feet, fine lines and wrinkles.