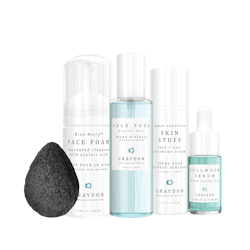 This clean beauty starter kit is suitable for a wide range of skin types. Formulated with plant-based hyaluronic acid, vegan retinol, botanical collagen, azelaic acid and cermaides, this kit leaves the skin feeling smooth and hydrated. 
Included in the Kit
Bamboo Charcoal Konjac Sponge. This sponge is gentle enough to be used on sensitive skin types and helps to remove dirt and grime from the face. It can also double as a beauty blender. 
Blue Majik Face Foam Cleanser. This cleanser works to brighten, cleanse and smooth the skin to visibly improve texture while removing dirt. 
Fullmoon Serum. This serum helps to reduce the appearance of fine lines and wrinkles, reinforce skin barrier function, plump the skin, diminish the appearance of pores and hydrate. 
Skin Stuff Face + Eye Cream. This cream works to replenish the skin's moisture barrier while hydrating, smoothing, boosting and sealing skin radiance and moisture. 
Face Food Mineral Mist. This mist balances the complexion while calming, rejuvenating, mattifying and shielding the skin from environmental pollution.