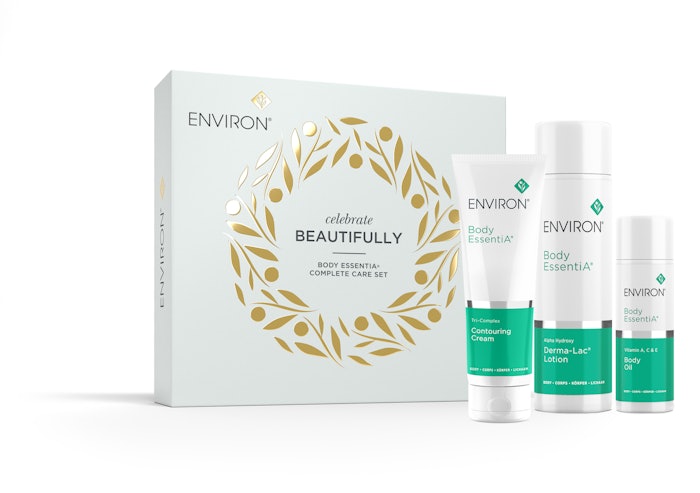 Environ released four different holiday kits for 2021. 
Environ Delux Super Moisture 100ML
This moisturizer aims to leave the skin feeling intensely hydrated; when you order a 100ML super moisturizer you receiv a 50ML one for free. The Focus Care Moisture+ Vita-Complex Super Moisturizer is formulated to help comfort and hydrate the skin, and it leaves the skin's hydration levels restored. This cream is also formulated with various antioxidants, vitamin C and vitamin E to assist in shielding the skin from the effects of environmental stresses and brighten the complexion. 
Environ Body EssentiA Complete Care Set
This kit includes the Environ Body EssentiA Tr-Complex Contouring Cream, Body EssentiA A, C & E Body Oil and the Body EssentiA Alpha-Hydroxy Derma-Lac Lotion. These products work together to help with dimpled skin and uneven texture while also softening the skin and reducing the appearance of fine lines, stretch marks and scarring. 
Environ Micro-Needling Skin Serenity Skin
This kit includes the Environ Focus Care Youth+ Malachite-NP Complex Serience Night Serum and the Micro-Needling Cosmetic Roll CIT. The overnight booster developed to target the negative long-term effects of stress, while peptides help to prevent fine lines and wrinkles. The use of the hand-held rolling device with 1mm stainless steel micro-needles enhances the overall look of the skin. 
Environ Micro-Needling Gold Luxe Set
This kit includes the Environ Moisture+ HA Intensive Hydrating Serum and the Gold Cosmetic Roll-CIT. The serum uses concentrated hyaluronic acid serum that assists in improving the appearance of dry skin, fine lines and photo-damaged skin. 
508.539.8900, www.dermaconcepts.com