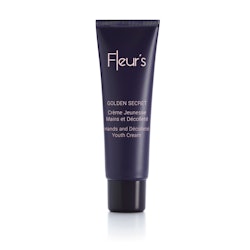 Fleur's Golden Secret Hands and Décolleté Youth Cream is a versatile product suitable for all skin types, specifically formulated to address the thinner and more fragile skin of the hands and décolleté. The cream provides comprehensive benefits, including moisture, nourishment, plumping, soothing and evening out the skin tone. It aims to protect, prevent, and correct visible signs of aging in these areas, offering daily moisture, safeguarding against premature aging, and enhancing the overall beauty of these delicate zones, ensuring a more youthful and radiant appearance.
Key Ingredients:
Organic Star Lily: moisturizing, nourishing, anti-aging, renewing, firming.
Hyaluronic Acids: 100% natural origin – hydrating, anti-aging, firming, plumping, leaves skin supple.
Clinical Results [Clinical scoring performed on 22 women after 28 days of bi-daily application on hands]:
Reduces wrinkles by 18%
Limits dark spots by 22%
Improves flexibility by 39%
Increases density by 39%
Smoothes the skin by 25%
Evens out the skin by 21%