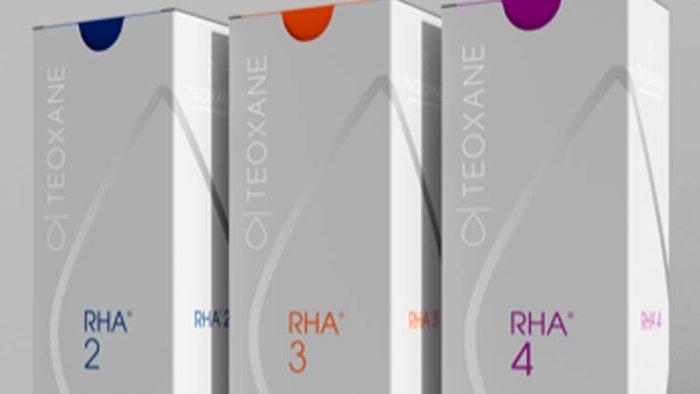 There is a new line of hyaluronic acid (HA)-based fillers available in the U.S. The RHA filler collection, developed by Valerie Taupin of Teoxane and distributed exclusively by Revance Aesthetics here in the U.S., were developed to offer better tissue integration and dynamic movement. The line was launched in 2015 and is currently available in 79 other countries.
"Madame Taupin took a very unique approach in developing the RHA fillers. Her path was not, 'How do I modify HA to obtain the perfect result?' Her approach was to align as much as possible with natural HA characteristics and still create volume and lift," says Dustin Sjuts, chief commercial officer, Revance Aesthetics.
Taupin uses what she calls Innovative Preserved Network Technology that preserves longer HA chains and their intrinsic noncovalent bonds to more closely resemble natural HA. Revance chose the line because it offered an opportunity to complement the company's investigational neuromodulator, DaxibotulinumtoxinA for Injection.
"We knew there were advantages to having more products in our portfolio, specifically looking at that synergy in patient outcomes with a dermal filler and a neuromodulator," says Sjuts. "But we didn't want to bring just another dermal filler to the market, because there are a lot of options out there already."
Continue Reading on about RHA fillers in our Digital Magazine...
Inga Hansen is the managing editor of MedEsthetics.