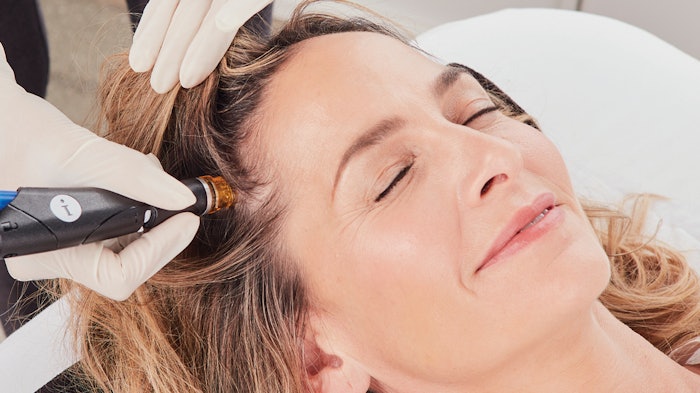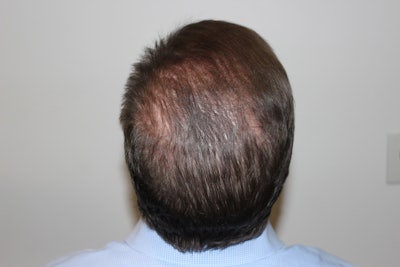 The HydraFacial Keravive has become a popular noninvasive treatment in my practice, because it offers my patients the confidence that comes with healthy hair. The treatment is ideal for people who are suffering from scalp flaking, itchiness, dryness or irritation and also benefits people who are experiencing hair thinning or loss due to hormonal, environmental or physiological factors, such as stress or preparing for a hair transplant. Patients undergoing nonsurgical hair loss treatments such as minoxidil, finasteride, platelet-rich plasma (PRP) or laser therapy also benefit from the treatment.
It uses HydraFacial's proprietary hydradermabrasion technology to dislodge and remove impurities from the scalp and hair follicles, stimulate scalp circulation and infuse the scalp with growth factors and peptides that support new hair growth and hair thickness. The HydroPeel tips feature a spiral design that helps manually exfoliate plus vacuum technology that removes impurities and debris, while simultaneously hydrating the skin.
Patient Preparation
For best results, I counsel patients to come to the treatment with clean, dry hair free of styling products. My team examines the scalp to identify any problem areas before starting the treatment.
The treatment takes approximately 30 minutes and is a simple three-step process: Cleanse + Exfoliate (in-office) using the HydraFacial Vortex Technology to extract dirt, oil and impurities from the scalp and hair follicles while stimulating circulation; Stimulate + Nourish (in-office) using the HydraFacial to infuse the Peptide Complex Solution into the scalp to nourish and stimulate the scalp and hair follicles with growth factors and skin proteins that promote thicker, healthier-looking hair; and Extend + Enhance (at-home) with the daily use of the HydraFacial Keravive Peptide Complex Spray, which enhances the in-office treatment by delivering growth factors and peptides daily to the scalp and hair follicles.
For optimal results, we recommend a series of three treatments spaced one month apart with continuous daily use of the take-home spray throughout. Following the in-office treatment, my team instructs patients to apply the HydraFacial Keravive take-home spray daily beginning the day following the in-office treatment. We recommend applying one to two sprays per area of concern by placing the nozzle directly on the scalp while spraying followed by massaging the solution into the scalp for 30 to 60 seconds. For best results, apply in the evening and allow the solution to remain on the scalp overnight.
Contraindications and Recovery
It is important that patients consult their physicians and undergo a scalp examination prior to treatment. This procedure has not been studied in patients who have been diagnosed with, or recovered from, skin cancer on the scalp. It is also not recommended to have a HydraFacial Keravive treatment until six months after hair transplant surgery.
For best results, my team recommends allowing the scalp and hair to fully absorb the solution and spray before applying heat. We counsel patients to wait at least one hour following in-office treatment and the daily at-home spray before blow drying their hair and to wait at least six to 12 hours post-treatment before washing their hair.
Our patients describe Keravive as pain-free, gentle and relaxing, and typically are very satisfied with the before-and-after results of the treatment.