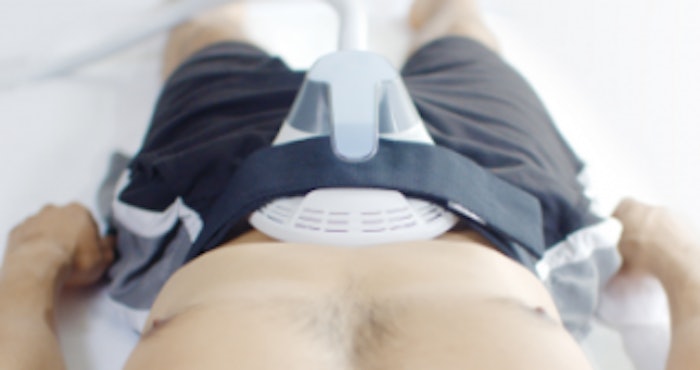 Subjects treated with a device that simultaneously delivers radiofrequency (RF) and high intensity focused electro-magnetic (HIFEM) technology (Emsculpt Neo, BTL Aesthetics) showed damaged adipocytes and a smaller waist circumference, according to the findings of a study published in the Journal of Cosmetic Dermatology (April 2021). 
Four subjects (51.50 ± 6.35 years, 22.59 ± 3.21 kg/m2) underwent three 30-minute abdominal treatments of RF therapy and HIFEM. One subject (57 years old, 23.60 kg/m2) served as a control. Researchers collected punch biopsies at baseline, one week and one month post-treatment. Samples were sliced and stained with H&E. Waist circumference, digital photographs, subject satisfaction and therapy comfort were assessed. 
Related: Reduce Risk and Achieve Optimal Liposuction Outcomes
Baseline samples showed a healthy appearance of adipocytes, composed of round-shaped unilocular cells of uniform size. At follow-up, treated adipocytes demonstrated nuclear and shape changes with consequent fat reductions. Adipocytes were found to be flattened or shrunken and of smaller size (-33.5% at one week, -31.7% at one month) along with occasional ruptures of the cytoplasmic membrane. In contrast to baseline, pyknotic nuclei with condensed nuclear chromatin were seen at one week and one month post-treatment.
The control samples showed no treatment-related changes. Waist circumference decreased by an average of 2.20 cm in the treated patients. No adverse events were observed. The fat temperature reached 42-45° C during treatment. The treatment was recorded as comfortable with high patient satisfaction.