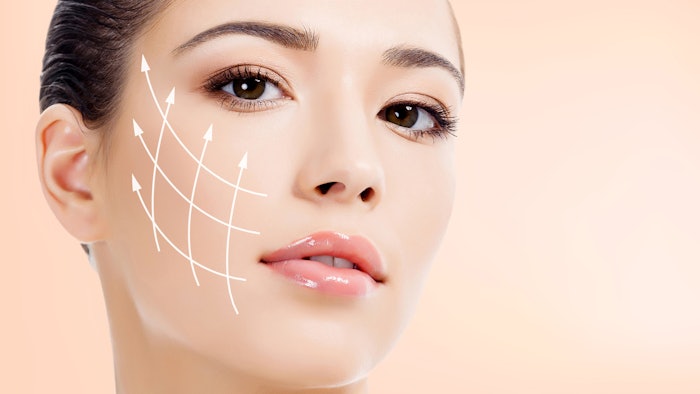 Acoustic wave therapy noninvasively improves skin texture, clarity and laxity, according to the outcomes a study published in Lasers in Surgery and Medicine (July 2021).
For "Facial Tightening Effects, Following Focused and Radial Acoustic Wave Therapy Assessment, Using a Three-Dimensional Digital Imaging," authors Kuriko Kimura MD, PhD, and Yohei Tanaka, MD, PhD, treated 333 patients at their aesthetic clinic with the Cellactor SC1 (Storz Medical AG), an acoustic wave device.
Related: Noninvasive Skin Tightening: The Heat Is On
Outcomes were assessed at 12 months following the last treatment using digital photographs and 3D imaging (Vectra, Canfield Scientific). Subjects rated their satisfaction with the treatment using a 5-point Likert scale.
Patients underwent at least four initial treatment sessions using focused and radial acoustic waves, followed by monthly maintenance treatments. Each patient received 2,000–3,000 pulses of focused acoustic waves at a power of 0.45–0.88 mJ/mm2 with a pulse frequency of 3–5 Hz and 4,000 pulses of radial acoustic waves at 4-bar power at a frequency of 21 Hz.
Related: Soliton's Rapid Acoustic Pulse Technology
Digital photographs revealed improvements in skin texture, clarity and laxity. Superimposed three-dimensional color images showed marked volumetric reduction and/or formative modification for even contour toward the lower mid-face.
Most vectors showed three-dimensional skin surface displacement at the lateral sides of the temples, cheeks and chin, in an upward direction. Almost all patients reported improvement, with 79% reporting "good" or "excellent" improvement.
The authors note that acoustic waves induce a variety of biological reactions through the shear and pressure forces they produce, leading to a variety of responses, such as:
increased release of nitric oxide,
increased cell permeability and blood and lymph microcirculation
release of growth factors
proliferation of collagen and elastin fibers  
lipolysis