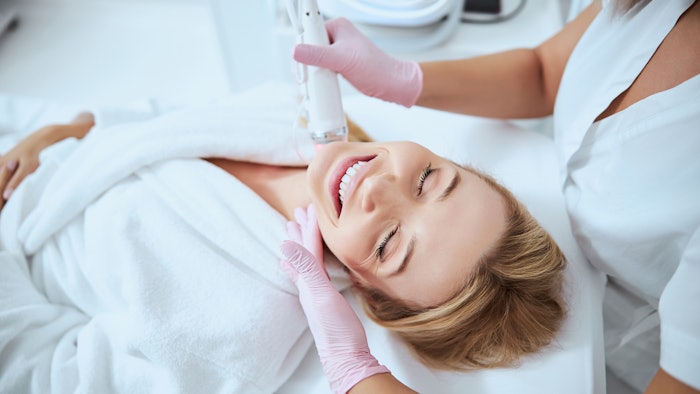 With improvement of the neck and cervicomental angle continuing to be one of the most challenging aspects of rejuvenation, authors Heba Gawdat, MD, et al, compared the efficacy of fractional radiofrequency (RF) microneedling with and without the use of platelet-rich plasma (PRP) in its abilities to rejuvenate the neck. The results of this study were published in the Journal of Cosmetic Dermatology (July 2021). 
Related: RF Fractional Microneedling Improves Skin Laxity and Wrinkles
The study included 20 patients with mild to moderate neck laxity who received three sessions of either fractional RF microneedling and autologous PRP (group A) or fractional RF microneedling monotherapy (group B). Researchers used optical coherence tomography to detect dermis thickness and measure the cervicomental angle, and two blinded investigators rated outcomes using the global aesthetic improvement scale (GAIS). Patients also rated their satisfaction with the outcomes. 
Related: Fractional RF Microneedling for Difficult-to-treat Rosacea
Both groups showed a statistically significant improvement in all parameters. When comparing the two groups, group A had a higher mean dermal thickness after treatment, but the difference was statistically insignificant. Group A also received more favorable results according to GAIS. Other parameters showed comparable results between group A and B. 
Related: RF Microneedle vs. Er:YAG for Striae Alba
The authors concluded that fractional radiofrequency microneedling  with insulated microneedles offers a safe and effective modality for mild to moderate neck laxity when used alone or in combination with PRP. It remains questionable whethering combining fractional radiofrequencing microneedling with PRP provides more favorable results in terms of efficacy and side effects.