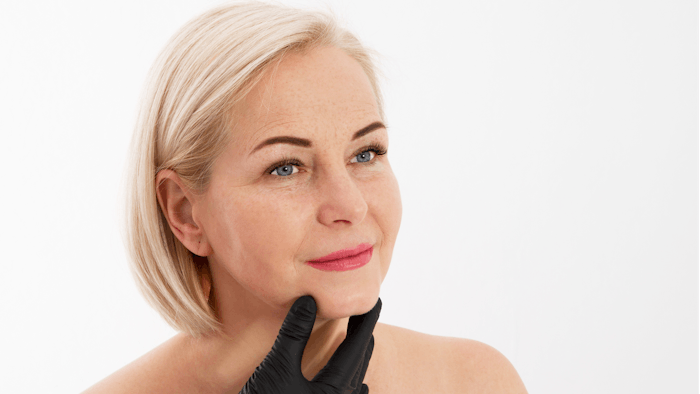 Six treatment sessions with a fractional radiofrequency (RF) device with novel 1-mm long ultra-thin electrode pins (Lumenis Legend Pro) improved skin laxity and wrinkles, according to both blinded evaluators and subjects. For "Clinical and histologic evaluation of a fractional radiofrequency treatment of wrinkles and skin texture with novel 1-mm long ultra-thin electrode pins,"  (Lasers in Surgery and Medicine, July 20, 2021), Arielle N. B. Kauvar, MD, Amikam Gershonowitz, DVM, treated nine patients (mean age: 47.6, Fitzpatrick skin type II–IV, Fitzpatrick Elastosis Wrinkle Scale [FEWS] score: 3–6).
Related: RF Microneedling vs. Energy-Based Devices
All subjects underwent six treatment sessions with a fractional RF technology utilizing an array of 6 × 6 1-mm long ultrathin electrodes. Treatment effectiveness was assessed by FEWS and the Global Aesthetic Improvement Scale (GAIS). The investigators also evaluated safety and tolerance.
Related: RF-Based Intralesional Microneedle for Periorbital Syringomas
Three months after that last treatment session, blinded, investigator-assessed FEWS decreased from baseline 4.33 ± 0.67–3.33 ± 0.67; 88.9% of participants showed overall skin improvement using the physician-assessed GAIS; and all subjects reported improvement in skin texture and wrinkles.
The treatment was well tolerated, with no adverse events and no downtime. Histological analysis in a porcine model showed a fractional pattern of epidermal ablation and dermal coagulation with intervening zones of normal healthy tissue. These changes were followed by progressive epithelialization over a period of 13 days.