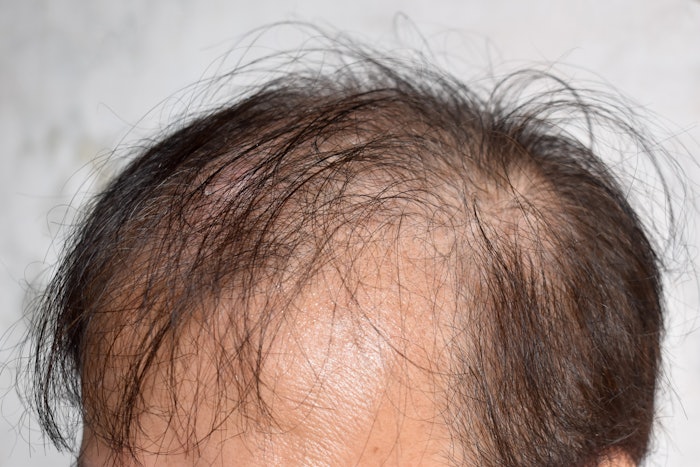 Researchers investigating the use of low level light therapy (LLLT, Gentlewaves) to enhance the efficacy of minoxidil 2% by reducing scalp inflammation—a potential physiological obstacle to the use of minoxidil in the treatment of androgenetic alopecia (AA)—found that LLLT can enhance the efficacy of minoxidil in cases where mild perifollicular inflammation is involved. The results of their two clinical studies were published in Lasers in Surgery and Medicine (November 2021). 
Related: PRP Assessed in the Treatment of Androgenic Alopecia
The first experimental clinical study included 64 men with AA. Scalp biopsies (3.6 mm Ø, containing an average 3 to 5 follicular units each) were collected from the frontal progressing zone of all subjects before treatment. Then, 35 subjects specifically underwent LLLT treatment (590-nm predominant wavelength, 70 seconds, once per day for three days) on the top of the head. Researchers performed a whole-genome analysis of pre- and post-treatment scalp biopsies.
Related: Solution that Targets 7 Facets of Follicles Shown to Prevent Hair Loss, Promote Growth
The second clinical study included 112 subjects with AA. Group A (n=45) received full-head LLLT exposure (0.1 J/cm2, 70 seconds once a day) and used minoxidil 2% twice daily for five consecutive days per week for six months; Group B (n=45) used minoxidil 5% twice daily for five consecutive days per week for six months; Group C (n=22, control) did not receive any treatment.
Related: Microneedling for Androgenic Alopecia: Needle Depth Matters
Whole-genome analysis of the scalp biopsies showed that 50% of subjects pre-treatment had scalp inflammation,  evidenced by the overexpression of perifollicular biomarker CD69+ and inflammatory biomarker FOS+ transcript. Scalps treated with LLLT showed a marked downregulatory effect on several inflammatory biomarkers, such as FOS, DUSP1, CYR61, mir21 and CD69.
In the second clinical study, the researchers observed that LLLT boosted the hair growth activity of a minoxidil 2% lotion to the extent of the highest concentration (5%) in terms of efficacy, number of responders and perceived performance.