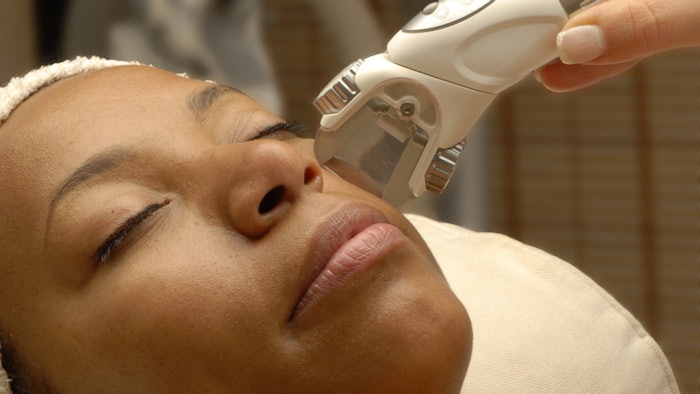 Thermo-mechanical fractional injury (TMFI) therapy (Tixel, Novoxel) is a new technology that is now being used for facial skin rejuvenation, and Fares Salameh, MD, et al, put this therapy to the test by comparing the clinical results, side effects and downtime of TMFI to nonablative fractional 1,565 nm (NAFL) laser (ResurFX, Lumenis) for the treatment of periorbital wrinkling. 
They published their findings in Lasers in Surgery and Medicine (December 2021). 
Related: [Microcoring Technology] New Data Shows Skin Tightening with No Scarring
The prospective study included 68 patients (64 women, 4 men) with skin types I-VI in two medical centers (34 from Israel, 34 from the U.S.) that were randomized to receive either TMFI or NAFL treatment for periorbital wrinkling. Patients received three to five treatments, spaced three to five weeks apart. 
Three non-involved physicians evaluated the skin at baseline and six months after the last treatment using the Fitzpatrick Wrinkling Classification System (FWCS). The side effects and downtime profiles were assessed in each group including: VAS pain assessment, time required to refrain from work and social activity and time required for resolution of redness, edema and crusts. 
Related: Comparing Different Therapeutic Modes of CO2 Fractional Laser
A moderate improvement of periorbital wrinkling was demonstrated in both groups, with an average improvement of 1.6 ± 0.6 in FWCS in the TMFI group and an average improvement of 1.7 ± 0.8 in the NAFL group (p < 0.001). Postprocedural VAS score was 5.86 ± 2.3 in the NAFL group and 4.01 ± 2.6 in the TMFI group. 
Roughly 80% of subjects returned to both work and social activities two days postprocedure, and crusts were reported by 52% of patients in the TMFI group compared to 16% of patients in the NAFL group more than 48 hours postprocedure (p < 0.05). Researchers concluded that TMFI is an effective and safe modality for the treatment of periorbital wrinkling with comparable results to the 1,565 nm NAFL.