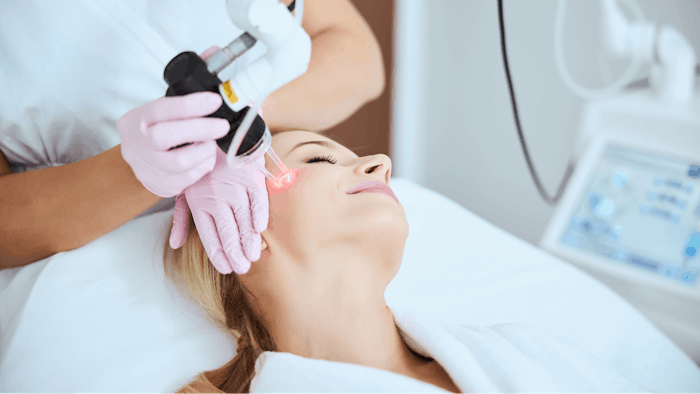 A split face study comparing the use of different modes of CO2 laser delivery for fine lines and wrinkles found that combination mode treatments offer superior outcomes to standalone therapy. For their study, published in the Journal of Cosmetic Dermatology (December 8, 2021), Lin Gao, MD, et al, treated 30 patients with static periorbital wrinkles using different emission modes of CO2 fractional laser (CO2RE, Candela Medical).
Related: Fractional CO2 with PRP Improves Acne Scar Outcomes
The subjects were randomly assigned into two split-face groups: One side was treated with a deep (n = 15) or mid-mode of CO2 superficial laser (n = 15), and the other side of the periocular region was treated by a fusion mode that combines both modes (n = 30).
Related: Laser-assisted HA Delivery Enhances Facial Skin Remodeling
All three groups showed significant improvement of periocular wrinkles, skin texture and skin elasticity at the three-month follow-up as compared with baseline. The sides treated with the fusion mode resulted in significantly progressive improvement of periocular wrinkles at three-month follow-up as compared with one-month follow-up. This progressive improvement was not observed in the areas treated with the other modes.
Related: To Reach Prospective Patients Focus on the Eyes
The fusion mode-treated areas also achieved higher scores on the global aesthetic improvement scale and in patient satisfaction as compared to other modes at both one month and three month follow ups.