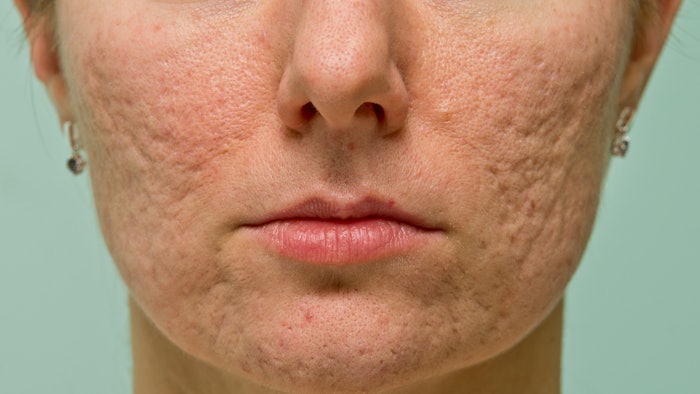 A randomized, split-face study found that fractional CO2 laser (FCL) followed by application of platelet-rich plasma (PRP) provided better and faster outcomes for atrophic acne scars than adjunct treatment with a topical stem cell-conditioned medium (SC-CM) or laser treatment alone. The study was published in the Journal of Dermatological Treatment. 
Related: Microplasma RF Vs. Microneedling for Acne Scars
Thirty-three patients were randomly assigned to one of two split-face groups. Group I (n = 17) received FCL and topical SC-CM on one side of their faces and FCL and saline on the other. Group II (n = 16) received FCL and topical PRP on one side and FCL with SC-CM on the other. All of the subjects underwent three monthly sessions, which included a clinical assessment at each visit. There was a final assessment after three months. Skin biopsies were obtained for histological and quantitative molecular analysis after treatment. 
Related: Effective Energy-based Treatment for Acne
There was no significant difference in clinical improvement of acne scars between the FCL/SC-CM and FCL only sides. There was, however, better and faster improvement seen on the FCL/PRP side compared to the FCL/SC-CM-treated side. The researchers found no significant difference in downtime or adverse effects between the treated sides in either group. Biopsies showed an increase in dermal collagen and upregulation in procollagen type I gene in both the FCL/PRP and FCL/SC-CM sides compared to the FCL only sides.