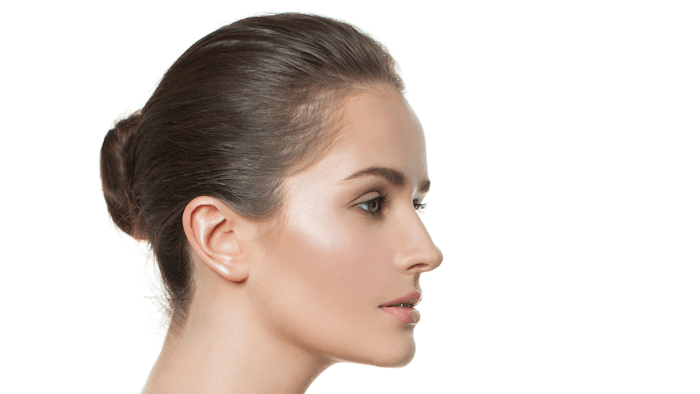 The results of three prospective clinical studies, published in Plastic and Reconstructive Surgery - Global Open (October 2021), showed that treatment with a novel microcoring technology from Cytrellis resulted in skin area reduction with no scarring and limited side effects.
Related: ellacor Treatment for Mid- and Lower-Face
Microcoring technology (MCT) uses a modified, hollow hypodermic needle to remove skin in a fractional pattern and does not use thermal energy.
To determine the safety and efficacy of the treatment, Jason N. Pozner, MD, et al, performed three prospective clinical safety trials analyzing MCT treatment on abdominal skin, facial skin (short-term) and facial skin (long-term).
Abdominal Skin Trial
Five subjects scheduled to undergo abdominoplasty surgery were treated with MCT in the area to be removed during the abdominoplasty operation. Two 1 cm x 1 cm areas (treatment area and untreated control area) were marked by permanent tattoo before MCT.
Related: FDA Clears ellacor Microcoring Device
Two subjects underwent tissue biopsy on day 90 to confirm absence of scarring on histology. The investigators evaluated possible skin rejuvenation effect and skin thickness with the DermaLab Combo on day 90.
Facial Skin (Short-term)
Nine subjects were randomized to MCT treatment in a 2 cm x 1 cm area of skin in the preauricular area 30 days before excision during facelift surgery.
Related: Acoustic Wave Device Offers Skin Tighening
In addition to assessing skin thickness, the researchers measured reduction of skin surface area using stereo photogrammetry on three-dimensional images obtained with the Canfield Vectra H1 handheld camera. The investigators also evaluated erythema and melanin content with optical reflectometry as an additional safety variable.
Facial Skin (Long-term)
To determine whether MCT treatment is safe long-term, 15 patients (30 treatment sites) were randomized to MCT treatment in a 2 cm x 1 cm area of skin in the preauricular region that was not removed surgically. Treatment parameters were randomized to each treatment area, with needle gauge ranging between 22G, 24G and 25G and treatment density of either 2.5%, 5%, 7.5% or 10%.
Related: Nuvellus Focal Contouring
Clinical Efficacy
Both abdominal and facial skin thickness increased after MCT treatment when compared with control areas.
In the short-term facial skin trial, skin surface area reduction at a 10% treatment density with needle gauge 22G and 24G was on average −9.4% ± 4.3% (−13.9 ± 7 mm2), which was significant when compared with baseline and control.
The long-term facial skin trial data revealed a mean subject global aesthetic improvement scale score of 2.9 ± 0.6 and mean investigator global aesthetic improvement scale of 2.8 ± 0.5 at 90 days ("very much improved"). Clinical examination showed a visible reduction of rhytids.
Related: Noninvasive Skin Tightening: The Heat Is On
Safety Results
In the short-term facial skin trial, one subject developed a superficial wound infection in the preauricular area 21 days after treatment that resolved without intervention. No other adverse events or serious adverse events were reported in any of the three clinical trials. All subjects in the studies were White.
The average pain during abdominal treatment was 2.8 ± 1.1 on a scale of 0–10. Average pain in the short-term facial skin trial was 0.4 ± 1 during treatment. In the long-term facial skin trial, pain during treatment was reduced to 0 ± 0.
MCT-treated skin healed with no scarring. During the abdominal skin trial, trace to mild treatment side effects such as ecchymosis, edema, crusting, roughness, dryness and inflammation were seen up to day 30, and trace hyperpigmentation was seen on days 7–90.
The short-term facial skin clinical trial showed trace ecchymosis, crusting and roughness up to day 15. Trace edema, redness, dryness, inflammation and hyperpigmentation were present up to day 30.
During the long-term facial skin trial, trace roughness, dryness and inflammation were noted up to day seven. Trace redness was seen on days 1–15, and trace hyperpigmentation was seen on day 30 that resolved by day 90.
Histologic evaluation of biopsies confirmed absence of scarring at 10% treatment density. In the long-term facial skin trial, Manchester Scar Scale evaluation revealed no scar in any treatment area (n = 30) at needle gauge 22G–25G and 2.5%–10% treatment density in the preauricular area.