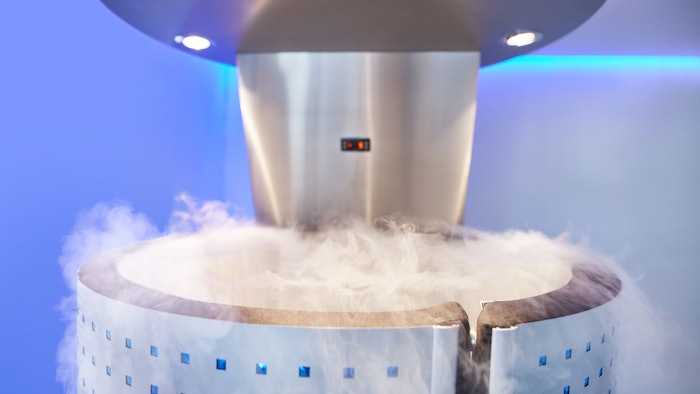 A study published in Journal of Plastic and Reconstructive Surgery (March 2022) evaluated the efficacy of the repetitive applications of cryotherapy, called cryothermogenesis, in body contouring of the abdomen and saddlebag areas. Researchers found that after five successive sessions of this treatment that there was a reduction in subcutaneous fat. 
Related: RF-Assisted Liposuction Effective in Face & Body Contouring
A total of 30 premenopausal women (mean age of 36.72 ± 7 years) with excess subcutaneous abdominal and saddlebag adipose tissue were enrolled in the study. Each participant underwent five cryothermogenesis sessions using a medical device equipped with two cooling probes.
The primary endpoint was metric measurement, and the secondary endpoints were the measurement of subcutaneous fat mass using a Lunar IDXA whole-body scanner (GE Healthcare, Madison, Wis.) and a metabolic assessment conducted before treatment and 15 days after treatment. 
Related: [Cryolipolysis] Single Session, Multi-cycle Treatment Safe and Effective
The patients had different phototypes and an average body mass index of 23.0 ± 1.41 kg/m2. A decrease in body mass index was observed three months after the last session; the body mass index dropped to 20.5 ± 2.1 kg/m2. Waist measurements showed a significant decrease, with an average loss of 4.1 cm after 15 days and 4.62 cm after three months. 
There was also a decrease in saddlebags observed three months after treatment. These results confirmed by iDXA computed tomographic measurements, showing a significant fat mass reduction in the treated areas. 
After five successful cryothermogenesis sessions, the results indicated that subcutaneous fat in the abdomen and saddlebags was reduced without any complications.