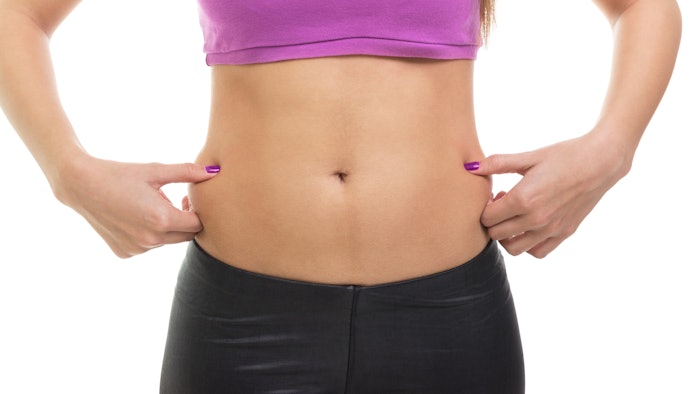 The 1,064 nm EON (Dominion Aesthetic Technologies) robotic laser system reduced subcutaneous fat in the flanks by a mean of 6.1 mm in a pilot study performed by Thomas Fiala, MD, MBA, and Philip Lavin, PhD, and published in Lasers in Surgery and Medicine (March 9, 2022).
Related: 1,060-nm Diode Laser Delivers High Patient Satisfaction for Fat Reduction
The primary objective of the 12-week study, which included 11 subjects treated on 22 flanks, was to confirm the safety of the 1064-nm laser device with a novel robotic arm for noninvasive subcutaneous fat reduction in the flank area. The researchers also assessed comfort during treatment, overall subject satisfaction with outcomes, degree of subcutaneous fat reduction in the treated area and adverse events.
Related: High-Intensity Focused Ultrasound Reduces Subcutaneous Fat
Subjects underwent one 20-minute treatment on a 110 cm2 area on both flanks. Ultrasound scans were performed two weeks post-treatment to measure changes in the treated area and at baseline and 12 weeks post-treatment to determine changes in subcutaneous adipose tissue thickness at the center of each treatment zone.
One subject developed a palpable thickening in the subcutaneous tissue following treatment. This was noted at the two week time period and had resolved by the 12-week post-treatment exam. No other predefined adverse effects were noted. On a scale of 0–10, the mean pain score during the procedure was 1.95. All (100%) subjects rated their satisfaction with the treatment as "Excellent." Twelve weeks after the single treatment session, the mean reduction in subcutaneous adipose thickness on the treated flanks was 6.1 mm per patient.