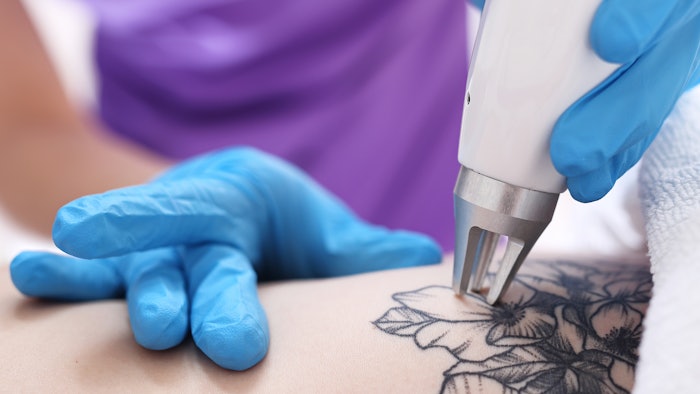 An animal study comparing the efficacy 1,064 nm nanosecond, 1,064 nm picosecond, 755 nm and 595 nm lasers for removal of black ink tattoos found that the 1,064 nm lasers were most effective with no significant difference between the 1,064 nm picosecond and 1,064 nm nanosecond lasers. The paper was published in Lasers in Surgery and Medicine (March 15, 2022).
Researchers from the department of dermatology at The Second Affiliated Hospital of Xi'an Jiaotong University, Xi'an, China, tattooed the dorsal surface of rats (black ink tattoos) and randomly treated the areas with 1,064 nm nanosecond, 1,064 nm picosecond, 755 nm and 595 nm lasers for one session.
Related: Choosing the Right Tools for Tattoo Removal
Outcomes were assessed through blinded clinical photographic evaluation by two dermatologists, melanin index (MI), hematoxylin and eosin staining, identification of macrophages by CD68 staining and transmission electron microscopy.
Settings and clinical endpoints for each modality included: Q-Switched Nd:YAG 1,064 nm nanosecond laser (5–20 ns, 3 mm spot size, 4.0–5.0 J/cm2 fluence, 5.0 Hz; Fotona QX MAX), 1,064 nm picosecond laser (450 ps, 3 mm, 2.0 J/cm2, 5.0 Hz; Picocare, WONTECH), Q-Switched 755 nm alexandrite nanosecond laser (20–100 ns, 3 mm, 4.0–5.0 J/cm2, 5.0 Hz; Alex TriVantage, Candela Medical) and 595 nm pulsed dye laser (450 μs, 7 mm, 7.0–8.0 J/cm2, 2.0 Hz; VBEAM PERFECTA, Candela Medical). The fluences of both the 1,064 and 755 nm lasers were determined as the minimal parameters to achieve an instantaneous epidermal whitening response. The parameter of 595 nm pulsed dye laser was based on clinical experience.
Related: Focused Ultrasound Device Effectively Removes Tattoo Ink
All the lasers included were effective for the removal of black tattoos, with 1,064 nm lasers having the best efficacy, followed by 755 and 595 nm lasers.
The authors noted that the most drastic decrease was observed in the first 14 days with both the nanosecond and picosecond 1,064 nm laser treatments causing a greater decline in MI than 755 and 595 nm lasers. Despite the lower efficacy, the 595 and 755 nm lasers did significantly reduce the MI of the tattoos.
In reviewing the histology, the diameter of the pigment particles and recruitment of dermal macrophages correlated with the efficacy of tattoo removal.