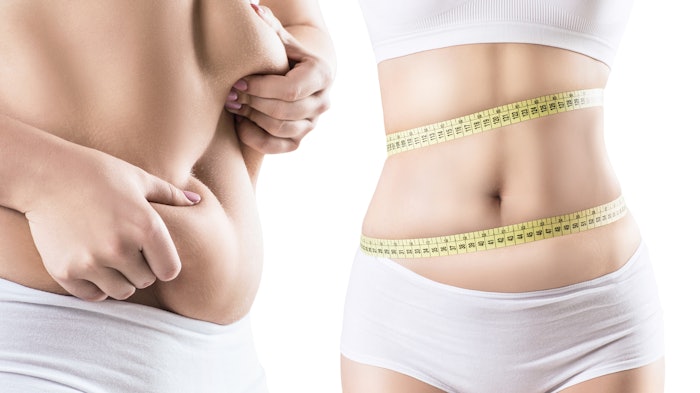 Laser-assisted liposuction with a 1,470-nm radial fiber-assisted liposuction device tightened skin and provided viable fat for facial fat grafting, according to the outcomes of a study published in the Journal of Cosmetic Dermatology (April 2022). The study included 20 subjects who underwent liposuction (BeautiFill, Alma Lasers) of lower abdominal or outer thigh fat, with seven subjects having samples grafted into facial regions. 
Related: Cryothermogenesis Effective in Reducing Subcutaneous Fat in Body
The adipose tissue was harvested using the LipoFLow suction and LipoDiode 1,470 laser using continous wave mode. The multi-center, prospective, open-label, single arm study monitored treatment saftey, body weight, blinded evaluator-assessed aesthetic improvements and subject-rated satisfaction for six months. Abdominal and facial fat thickness were assessed by magnetic resonance imaging (n = 6) within three months of treatment.  
Subjects were asked to rate improvement, including overall satisfaction and satisfaction with skin tightening, using a 5-point Likert's scale with "1" indicating no improvement and "5" indicating excellent improvement. They were asked to rate their likelihood to recommend the treatment to friends and family as well. 
Related: Two-Step Approach to RF-Assisted Liposuction Improves Saftey
One-month posttreatment, 88% of subjects ranked improvements as good/excellent and 92% rated skin tightening as satisfactory/very satisfactory. More than 70% of subjects provided similar scores six months posttreatment. Blinded evaluators noted improved or very much improved aesthetic appearance (87%). 
Harvested tissue injected as a facial filler (21.0 ± 5.2 ml) led to a 0.63 ± 0.12 mm increase in facial fat thickness, observed by MRI, within three months. Six months postfilling, 83% of subjects were satisfied with the outcome.