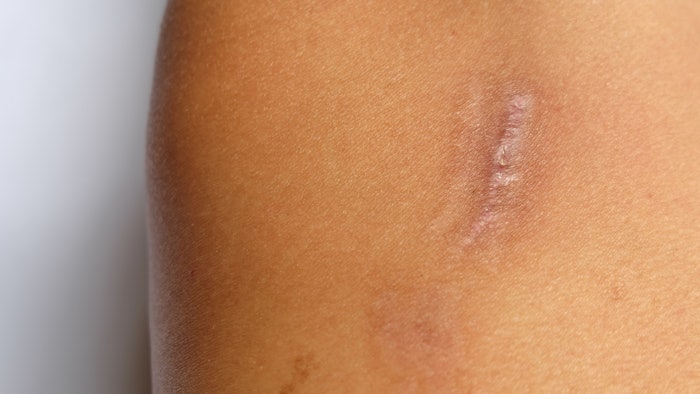 Researchers compared the efficacy and safety of thermomechanical fractional injury (TMFI, Tixel, Sentient Lasers)-assisted topical corticosteroid delivery with corticosteroid injection alone in the treatment of hypertrophic scars (HTS). 
In the randomized, split-scar, double-blinded study, published in the Journal of Lasers in Surgery and Medicine, it was found that TMFI-assisted topical corticosteriod delivery is effective for HTS treatment with a lower rate of adverse effects than steroid injection. 
Related: BTXA Safe and Effective for Treating Scar Hypertrophy
A total of 21 subjects with HTS on the abdomen received five split-scar treatments of TMFI + steroid and steroid injection alone. Researchers measured and analyzed changes in scar thickness, scar volume and Vancouver Scar Scale (VSS).  Patient self-assessments, VAS scores and adverse effects were also evaluated. 
Both segments of the scars showed significant improvement in scar thickness, volume and VSS score compared to baseline. There was no significant difference in mean scar thickness reduction between the two treatment groups until the six-month follow up. At this time period, the reduction in mean scar thickness was significantly lower in the steroid injection segment. There were no significant differences in scar volume, VSS scores and patient self-assessment at all visits. 
Related: Umbilical Cord Stem Cells are Effective in Treating Hypertrophic Scars
Patients reported significantly more pain in the steroid injection segment compared to the TMFI + steroid segment. Skin atrophy, telangiectasia and post-inflammatory hyperpigmentation (PIH) were noted in the steroid injection treatment, while no adverse effects were observed with the TMFI + steroid treatment areas.