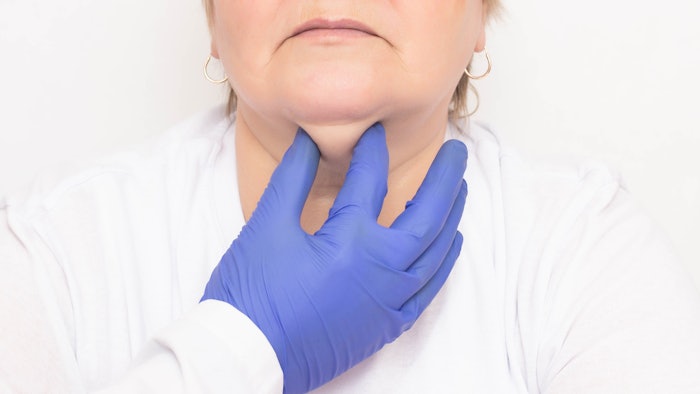 For patients with extreme submental fat a combination of cryolipolysis and ATX-101 (deoxycholic acid, Kybella) injection, performed sequentially, may prove superior to monotherapy in improving the appearance of the area.
Related: Dual Laser Therapy for Submentum Offers Superior Results
For their prospective, open-label, interventional, single-site study, published in the Journal of Cosmetic Dermatology (March 12, 2022), H. Ray Jalian, MD, Rebecca Fitzgerald, MD, Beta Bowen, MS, and Sylvia Gamio, MSc, enrolled 16 subjects rated as Grade 4 (extreme) on the Clinician-Rated Submental Fat (SMF) Rating Scale (CR-SMFRS). The mean age of the subjects was 43 years old, 62.5% were female and mean body mass index was 31.8 kg/m2.
The investigators performed sequential treatment with cryolipolysis and deoxycholic acid injections. Efficacy was defined as  ≥1-grade and ≥2-grade improvement on CR-SMFRS at 12 weeks post final treatment. The researchers also used ultrasound measurement to assess fat thickness pre- and post-treatment and evaluated Subject Self-Rating Scale (SSRS) scores at 12 weeks post final treatment.
Related: Kybella (Deoxycholic Acid) Safe for Inner Thigh Fat Reduction
All subjects (100%) achieved ≥1-grade improvement, and 71.4% achieved ≥2-grade CR-SMFRS improvement. The mean reduction in SMF thickness was 0.2 mm, and 71% of subjects reported SSRS scores ≥4 (slightly to extremely satisfied). Adverse events (AEs) were mild and resolved by study end. No unanticipated adverse device effects or serious or unexpected AEs occurred.