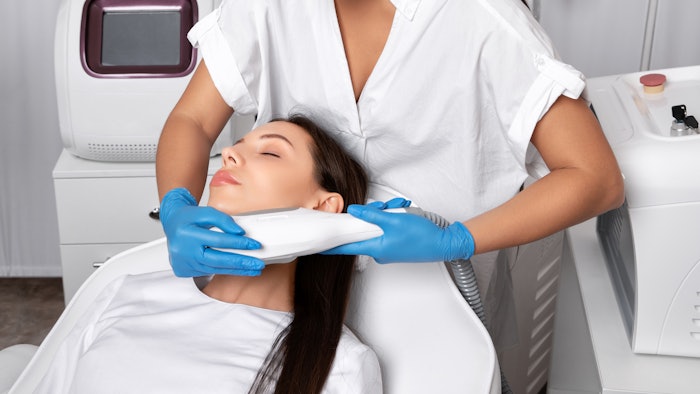 Researchers assessed the safety and efficacy of paired treatment using a picosecond laser for fine lines plus laser lipolysis for unwanted fat in the submentum. They treated 11 subjects with a 755 nm picosecond laser with diffractive lens array (DLA) and a 1,060 nm laser lipolysis device in the submental region and found that the combination treatment offered visible aesthetic improvement, as published in the Journal of Cosmetic Dermatology (September 2021). 
Related: Dual Wavelength Does Not Enhance Efficacy of Pico Laser
Subjects for the study were enrolled to receive up to three picosecond laser and two laser lipolysis treatments at two-to-eight-week intervals. A total of 11 subjects completed the study, with a mean age of 52.1 years, and 81.8% were female. The subjects represented Fitzpatrick skin types II-VI. Global Aesthetics Improvement Scores (GAIS) were used to assess outcomes.
Related: Picosecond Laser More Effective Than Q-Switched for Pigmented Lesions
For GAIS, 63.6%, 81.8% and 85.7% of subjects had improvement from baseline at 30-, 90- and 180-day follow-ups, respectively. At the 180-day follow-up, 100% of subjects maintained improvement from the 90-day follow-up. At the 90-day follow-up, calculations for neck laxity showed a significant improvement of 11.7% from baseline with a mean amount of lift of 42.7 mm2, which was above the predetermined threshold (20 mm2). No serious or unexpected treatment effects were observed.
Related: Picosecond Alex Laser Offers Long-Term Improvement in Photodamage
The authors concluded that paired facial treatment with 755 nm picosecond laser with DLA and 1,060 nm laser lipolysis of the submentum improved clinical aesthetic outcomes. This treatment regimen proved to be safe, well-tolerated and well-liked by subjects.