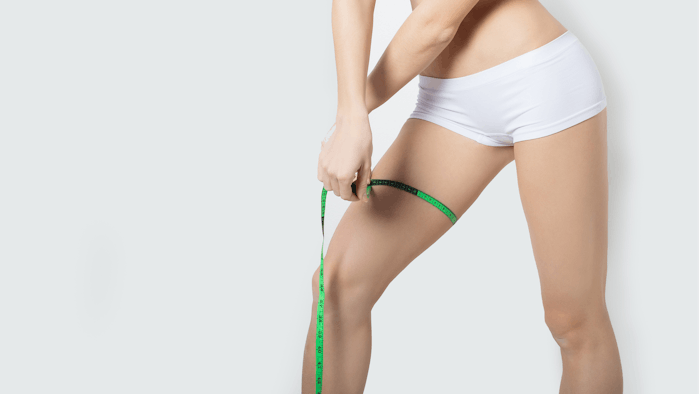 Injectable deoxycholic acid (Kybella) is FDA-approved for the treatment of excess submental fat, and is also safe and effective for fat reduction in the upper inner thighs, according to the outcomes of a phase in study, published in the January 2022 issue of Drugs in Dermatology (January 2022). 
For the study, authored by Joyce T. Yuan, MD, Faiza Shafiq, MBBS, and Arisa E. Ortiz, MD, the researchers treated 15 subjects with deoxycholic acid 10 mg/mL injected into upper inner thigh fat (two-to-four treatment sessions). Subjects were followed to 12 weeks after last treatment, and adverse events were monitored.
Related: Kybella Submental Contour Results Maintained for Three Years
The outcomes that were assessed by the research team and two independent blinded physicians included changes in thigh circumference, upper inner thigh skin fold thickness and "thigh gap." Patient satisfaction was assessed with questionnaires.
Related: Efficacy and Safety of Kybella When Used Off-label
All patients experienced expected side effects with no serious adverse events. At 12-week follow-up, there was an average decrease in thigh circumference of -2.2 cm and upper inner thigh skin fold thickness of -8.8 mm. The average increase in "thigh gap" was 1.6 cm.
Related: Researchers Treat Thigh Skin Laxity with MFU-V and CaHA
The blinded investigators correctly identified the post-treatment photograph for 83% of patients, and 86% of patients were satisfied with treatment, reporting an average three-point improvement (on a six-point scale).