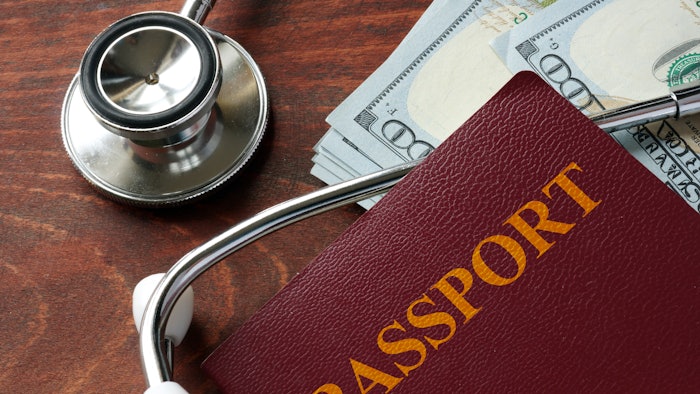 Global Medical Tourism Market's Expected Growth 
The global medical tourism market size is projected to reach $276 billion by 2031, growing at a 15.2% CAGR, according to The Business Research Company's Medical Tourism Global Market Report 2023. The market was valued at $73 billion in 2031, indicating the market will experience exponential growth over the next eight years. Market drivers identified in the report include government initiatives, lower-cost care for surgeries, an increase in the geriatric population, a rising number of medical tourists and technological advancements.
Related: Medical Tourism is On the Rise
Market Drivers
Advancements in technology are expected to drive the growth of the medical tourism market due to major players operating in the medical tourism market focusing on the development of new technological solutions to strengthen their position in the market, per the report. The use of artificial intelligence (AI) in chronic health disorders to support efficiency in diagnosis and treatment management is also driving market growth. The report identifies the adoption of precision medicine as a key trend gaining popularity in the medical tourism market, with its AI usage being an added benefit.
Key Regions and Market Players
Asia-Pacific holds the major regional share of the medical tourism market, valued at $25 billion in 2022, accounting for over 20% of the total market share. The medical tourism market in the Asia-Pacific is supported by the tourism department and the government, raising awareness regarding medical tourism and the affordability of advanced medical treatments, which has also been used in India and Thailand to promote medical tourism, according to the report.
The report indicates that the global medical tourism market is highly fragmented. The top ten competitors in the market made up more than 2% of the total market in 2022, due to the existence of a number of local players in the market serving customers in particular geographies. Prince Court Medical Centre (IHH Healthcare) was the largest competitor with a 0.45% share of the market. Other key market players include Bumrungrad International Hospital, Asklepios Kliniken Verwaltungsgesellschaft mbH, Apollo Hospitals Enterprise Ltd, Fortis Healthcare, Bangkok Dusit Medical Services PCL., Saudi German Hospitals Group, Asian Heart Institute, Gleneagles Hospital and KPJ Healthcare Behard.