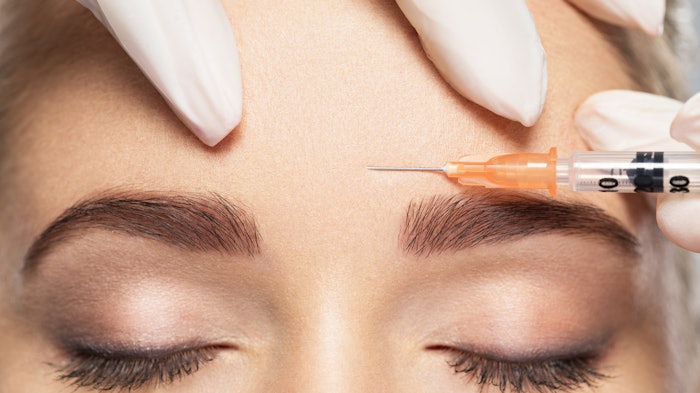 Botulinum toxin injections are at the core of the medical aesthetics industry. Relatively affordable, highly effective and offering a low risk of adverse events, these treatments brought elective medical procedures to the mainstream. The one downside: they require regular maintenance treatments every three to four months.
In recent years, however, the promise of longer-lasting botulinum toxins treatments has moved closer to reality. Revance Therapeutics' DaxibotulinumtoxinA, which has shown six-month longevity in clinical trials, continues to move closer to U.S. Food & Drug Administration (FDA) approval. While the concept of high dose microfocused (HDMF) botulinum toxin injections is gaining traction following nearly 13 years of research.
At the Face & Body with MedEsthetics virtual event on May 25, 2021, John H. Joseph, MD, facial plastic surgeon and founder of Clinical Testing of Beverly Hills, shared the theory and evidence behind HDMF.
HDMF botulinum toxin injections involve using a higher dosage of the toxin with a lower reconstitution volume to better target the muscle and increase longevity of the treatment. "The key to safely achieving longer duration is more than simply increasing the dosage; you must also reduce the reconstitution volume, which allows you to precisely focus the toxin," says Dr. Joseph, who explains that using a smaller volume and a higher dose results in a smaller field of effect, which restricts the toxin from migrating into surrounding musculature. He uses the equation: V x D = FE (Volume x Dose = Field of Effect).
Continue reading in our Digital Magazine...
Inga Hansen is the managing editor of MedEsthetics.